Seven Skeletons: The Evolution of the World's Most Famous Human Fossils (Hardcover)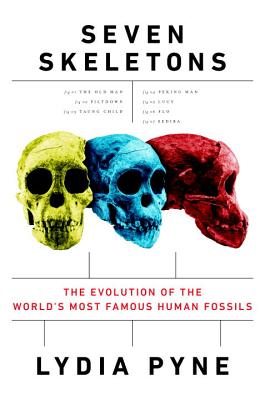 $28.00
Email or call for price
Description
---
An irresistible journey of discovery, science, history, and myth making, told through the lives and afterlives of seven famous human ancestors

Over the last century, the search for human ancestors has spanned four continents and resulted in the discovery of hundreds of fossils. While most of these discoveries live quietly in museum collections, there are a few that have become world-renowned celebrity personas—ambassadors of science that speak to public audiences. In Seven Skeletons, historian of science Lydia Pyne explores how seven such famous fossils of our ancestors have the social cachet they enjoy today.

Drawing from archives, museums, and interviews, Pyne builds a cultural history for each celebrity fossil—from its discovery to its afterlife in museum exhibits to its legacy in popular culture. These seven include the three-foot tall "hobbit" from Flores, the Neanderthal of La Chapelle, the Taung Child, the Piltdown Man hoax, Peking Man, Australopithecus sediba, and Lucy—each embraced and celebrated by generations, and vivid examples of how discoveries of how our ancestors have been received, remembered, and immortalized. 

With wit and insight, Pyne brings to life each fossil, and how it is described, put on display, and shared among scientific communities and the broader public. This fascinating, endlessly entertaining book puts the impact of paleoanthropology into new context, a reminder of how our past as a species continues to affect, in astounding ways, our present culture and imagination.
About the Author
---
Lydia Pyne has degrees in history and anthropology and a PhD in history and philosophy of science from Arizona State University. She has participated in field and archival work in South Africa, Ethiopia, Uzbekistan, Iran, and the American Southwest. She has published articles and essays in The Atlantic, Nautilus, and Public Domain Review. She lives in Austin, Texas, where she is an avid rock climber and mountain biker.
Praise For…
---
"Seven Skeletons is not simply a mixtape of paleoanthropology's greatest hits. Instead, Ms. Pyne uses each celebrity fossil as a springboard to ask why these particular fossils have captured our attention.... [A]n important reminder that we are a self-obsessed species that loves a good hero story."—Brian Switek, The Wall Street Journal

"[Pyne's] selections highlight the different ways a fossil can achieve celebrity status. Catchy nicknames, media attention, unusual circumstances surrounding a discovery and even scandals can help.... The book provides plenty of interesting backstory for each fossil.... [A] peek at how the field of paleoanthropology itself has evolved over the last century."—Science News

"Describing human evolution through accounts of fossils that became media events might seem a publicity ploy, but science journalist Pyne pulls it off. [Pyne] casts her net... widely, adding captivating accounts of how each discovery fascinated the mass media and entered literature and popular culture."—Kirkus Reviews (starred)
 
"Highly readable and an excellent title for armchair explorers with dreams of their own history-making discoveries."—Booklist

"Impressively blends the humanities and science to greatly enrich both."—Publishers Weekly

"Ever wondered how we got here, and how we think we know?  Lydia Pyne takes us on a grand romp through some high (and low) points of the scientific discovery and cultural interpretation of the human fossil record, and along the way shows just how intimately the two are intertwined."—Ian Tattersall, author of The Strange Case of the Rickety Cossack and Other Cautionary Tales from Human Evolution
 
"How and why do some important fossils become famous and others do not? Seven Skeletons is a story about science, but also its impact in popular culture… remind[ing] us that context matters in shaping how we think about science and the past."—Samuel J. Redman, author of Bone Rooms: From Scientific Racism to Human Prehistory in Museums
 
"As lively and readable as it is informative and instructive. By framing her account around the intimate history of seven individual hominid fossils, Pyne shows that paleoanthropology is about far more than dead and dry bones."—Lukas Rieppel, Assistant Professor of History, Brown University

"A skilled historian and a lively, colorful writer, Lydia Pyne takes us beyond the headlines and into the archives, revealing intimate details of scientific investigation, discovery, marketing, and myth-making in the stories of seven of the best-known human fossils. Seven Skeletons is a sprightly, informative page-turner with a deeper message: the strange careers of human remains have much to tell us about how we use science to understand what it means to be human."—Nathaniel Comfort, Professor of the History of Medicine, Johns Hopkins University