The Girl Who Slept with God: A Novel (Hardcover)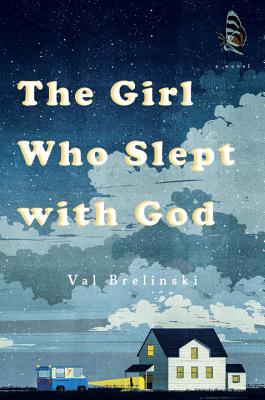 for information about purchasing this book, please contact orders@bookpassage.com
Description
---
"Fine, carefully wrought . . . reading this novel [is] a heartening experience." —The New York Times Book Review

"Brelinski's page-turning debut is full of humor, insight, and imaginative sympathy. Think of it as the annunciation of a new talent." —The Wall Street Journal

"A revelation." —Vanity Fair

"[Brelinski] had readers hooked from page 1." —Elle

For Fans of Celeste Ng's Everything I Never Told You and Meg Wolitzer's The Interestings, an entrancing literary debut about religion, science, secrets, and the power and burden of family from recent Wallace Stegner Fellow Val Brelinski

Set in Arco, Idaho, in 1970, Val Brelinski's powerfully affecting first novel tells the story of three sisters: young Frances, gregarious and strong-willed Jory, and moral-minded Grace. Their father, Oren, is a respected member of the community and science professor at the local college. Yet their mother's depression and Grace's religious fervor threaten the seemingly perfect family, whose world is upended when Grace returns from a missionary trip to Mexico and discovers she's pregnant with—she believes—the child of God.

Distraught, Oren sends Jory and Grace to an isolated home at the edge of the town. There, they prepare for the much-awaited arrival of the baby while building a makeshift family that includes an elderly eccentric neighbor and a tattooed social outcast who drives an ice cream truck.

The Girl Who Slept with God is a literary achievement about a family's desperate need for truth, love, purity, and redemption.
About the Author
---
Val Brelinski was born and raised in Nampa, Idaho, the daughter of devout evangelical Christians. She was a recent Wallace Stegner Fellow at Stanford, where she was also a Jones Lecturer in fiction writing. She received an MFA from the University of Virginia, and her writing has been published in Vogue, More, VQR, and The Rumpus. She lives in Northern California and teaches creative writing in Stanford University's Continuing Studies Program.
Praise For…
---
"[A] fine, carefully wrought novel. . . . There are no angels or devils, no absolute good or bad, only flawed though mostly forgivable people, whose complicated subjectivities make reading this novel, despite its many sad moments, a heartening experience."
—Naomi Fry, The New York Times Book Review

"Brelinski's page-turning debut is full of humor, insight and imaginative sympathy. Think of it as the annunciation of a new talent."
—The Wall Street Journal

"A revelation."
—Vanity Fair
 
"[Brelinski] had readers hooked from page 1."
—Elle

"Two young sisters—one devout and undeniably pregnant, the other full of the devil—left by their God-fearing parents in a remote farmhouse . . . what could possibly go wrong? Val Brelinski's fictional debut, The Girl Who Slept with God, answers that question and others with daring and grace."
—More Magazine

"[A] complex portrait of a family in upheaval. . . . Brelinski excels at capturing the mixture of sensations and hormones in the teenage girl. . . . A compelling, thought-provoking story about female adolescence, family love, faith and independence, with a well-drawn girl at the heart of it."
—The Seattle Times
 
"The Girl Who Slept with God juxtaposes the visceral details of everyday life with the more contemplative life of the mind and spirit. Like the novel's stark but beautiful landscape, Brelinski's prose is rich without being flowery. . . . This striking, quirky and ultimately haunting debut raises questions about the nature of faith and the principles we should uphold when faced with difficult decisions."
—The Houston Chronicle

"An impressive debut. . . . As [Brelinski] examines the intersections between science and faith, family control and individual choice, The Girl Who Slept with God delivers a memorable coming-of-age story."
—San Jose Mercury News

"Three sisters! Chekhov set his trio adrift in rural nowhere-land. Shakespeare beset his with a tyrannical, tragic father. In her thoughtful debut novel, The Girl Who Slept with God, Val Brelinski gives her Quanbeck sisters both these challenges and more . . . . compassionate . . . . radiant."
—The Cleveland Plain Dealer

"From Nathaniel Hawthorne's doomed Puritans and Flannery O'Connor's cursed freaks, right up to Marilynne Robinson's devout, reserved Midwesterners, there is a rich tradition of religious novels in American literature. Val Brelinski explores similar themes in her provocatively titled debut novel The Girl Who Slept with God. . . . [Brelinski examines] religion with depth and complexity. The narrative momentum builds impressively as Jory uncovers secrets and confronts painful truths about family, love, religion and growing up."
—Bookpage

"[An] engaging debut. . . . A heartrending portrait of the challenges of accepting and rejecting both faith and family and realizing that decisions aren't always so straightforward."
—Library Journal (starred review)

"[An] intriguing story of a close evangelical Christian family. . . . In her debut novel, Brelinski makes Jory's solitude nearly palpable and dissects the dynamics of family through Jory's life on the fringe of society, and the result is fascinating."
—Publishers Weekly

"A soulful exploration of the limits and consequences of familial control."
—Kirkus Reviews

"Populated with vibrant, three-dimensional characters and filled with lighthearted moments, pitch-perfect dialogue, and evocative descriptions of the Idaho countryside, Brelinski's debut is a memorable twist on the coming-of-age narrative. It is a piercing yet nuanced exploration of toxic parenting, guilt, manipulation, cowardice, and other human frailties, and the claustrophobic grip exerted by the ties that bind."
—Booklist

"The Girl Who Slept with God is full of passion and compassion. It treats its characters as people in a way few novels can—allowing each of them to be fascinating, full-hearted, noble, confused, brave, fumbling, petty, right and wrong by turns, in a way that feels like life."
—Chad Harbach, author of The Art of Fielding
 
"Val Brelinski manages to make a foreign world utterly familiar with prose that's heartfelt, provocative, and wistful. A striking debut."
—Kaui Hart Hemmings, author of The Descendants
 
"The Girl Who Slept with God is a lushly detailed and immensely compelling portrait of adolescence, Idaho, sisterhood, the 1970s, and the painful, precious mystery of family. Any reader who has ever sought to love someone beyond her understanding will relish this lovely book."
—Eleanor Henderson, author of Ten Thousand Saints
 
"What is it about the stark snows and broiling summers of Idaho that make an evangelical life seem both so compelling and so alien? Inventive and dynamic, The Girl Who Slept with God put me constantly in mind of Housekeeping, but rubbed roughly against life as we live it, with drugs and high school and 'A Whiter Shade of Pale.' Twinning grace and humor with startling psychological depth, Brelinski's debut novel is bold, sometimes unnerving, and chock full of the moments, insights, and beauty we read for."
—Scott Hutchins, author of A Working Theory of Love
 
"The Girl Who Slept with God is a deeply moving and beautiful novel that challenges our notions about faith, family and community. Val Brelinski is a gorgeous writer—compassionate and spare, generous and insightful—and this novel will stay with me for a long time. I loved it."
—Molly Antopol, author of The UnAmericans
 
"Page after page in The Girl Who Slept with God I was reminded of what I cherish most in fiction: the wonder of falling headfirst into a story, of falling for the people in it.  For this is a wondrous debut, written with as much care for its characters' hearts as for the finest points of the writer's craft. Seldom have I found a book so full of love or loved living in a novel's world so much."
—Josh Weil, author of The Great Glass Sea
 
"The Girl Who Slept with God is a gorgeously harrowing examination of a family facing perils so great everything they know about faith and love is challenged. Val Brelinski is a writer of uncommon precision and empathy, and this novel makes for a brilliant and commanding debut."
—Laura van den Berg, author of The Isle of Youth and Find Me