Why We Came to the City: A Novel (Hardcover)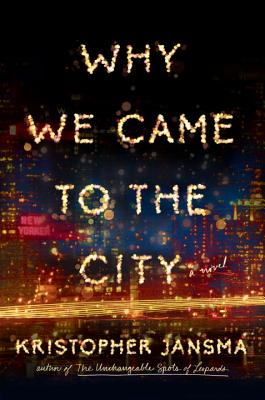 for information about purchasing this book, please contact orders@bookpassage.com
Description
---
"Stunning . . . A beautiful, sprawling, and generous book. Jansma is a brilliantly talented writer, but he also has a unique insight into what friends mean to one another, and what it means to be part of a city in which you never quite belong, but can't quite bring yourself to leave. It's a heartfelt novel, tender and painful and cathartic all at once, and even if the characters belong to New York, the story belongs to us all." —NPR

December, 2008. A heavy snowstorm is blowing through Manhattan and the economy is on the brink of collapse, but none of that matters to a handful of guests at a posh holiday party. Five years after their college graduation, the fiercely devoted friends at the heart of this richly absorbing novel remain as inseparable as ever: editor and social butterfly Sara Sherman, her troubled astronomer boyfriend George Murphy, loudmouth poet Jacob Blaumann, classics major turned investment banker William Cho, and Irene Richmond, an enchanting artist with an inscrutable past.

Amid cheerful revelry and free-flowing champagne, the friends toast themselves and the new year ahead—a year that holds many surprises in store. They must navigate ever-shifting relationships with the city and with one another, determined to push onward in pursuit of their precarious dreams. And when a devastating blow brings their momentum to a halt, the group is forced to reexamine their aspirations and chart new paths through unexpected losses.

Kristopher Jansma's award-winning debut novel, The Unchangeable Spots of Leopards, was praised for its  "wry humor" and "charmingly unreliable narrator" in The New Yorker and hailed as "F. Scott Fitzgerald meets Wes Anderson" by The Village Voice. In Why We Came to the City, Jansma offers an unforgettable exploration of friendships forged in the fires of ambition, passion, hope, and love. This glittering story of a generation coming of age is a sweeping, poignant triumph.
About the Author
---
Kristopher Jansma is the author of The Unchangeable Spots of Leopards, winner of the Sherwood Anderson Foundation Fiction Award. A graduate of Columbia University's MFA program, he is now an assistant professor of English and creative writing at SUNY New Paltz and a graduate lecturer in fiction at Sarah Lawrence College. He has written for the New York Times, Salon, The Believer, The Millions, Slice, BOMB, and Electric Literature. He lives with his wife and son in Brooklyn, New York.
Praise For…
---
Praise for Why We Came to the City

"A tremendous accomplishment: an elegant and deeply moving meditation on friendship and mortality, both fearless and finely wrought. I believe this book will stay with me for a very long time."
—Emily St. John Mandel, author of Station Eleven

"Stunning . . . A beautiful, sprawling, and generous book. Jansma is a brilliantly talented writer, but he also has a unique insight into what friends mean to one another, and what it means to be part of a city in which you never quite belong, but can't quite bring yourself to leave. It's a heartfelt novel, tender and painful and cathartic all at once, and even if the characters belong to New York, the story belongs to us all."
—Michael Schaub, NPR

"A brilliant stylist, Kristopher Jansma draws readers into an intricate web of lives in the big city in his astonishing new work. He writes with power and passion . . . and inhabits his characters, thinking what they think and feeling what they feel so compellingly that he pulls the reader into the story and won't let go. . . . A wonderful, unforgettable novel."
—Miami Herald

"Jansma's novel is a love letter to Manhattan, the letter so many of us who moved here in our 20s have written. . . . Like the rest of us, his characters learn that things don't always work out the way we plan, but if we stick with our city, our city delivers."
—Helen Ellis, The New York Times Book Review

"Enticing . . . Much like a modern Great Gatsby, this book is awash in the feeling of the city."
—Melissa Ragsdale, Bustle

"Fans of Bret Easton Ellis's stream-of-consciousness narratives will enjoy Jasma's paean to New York City."
—In Style

"Joyful and tragic, Jansma's book will appeal to readers who loved Hanya Yanagihara's A Little Life."
—Men's Journal

"As the characters navigate the complexities of an untimely and unexpected tragedy . . . Jansma artfully counters the heaviness of these themes with a delightful, and at times laugh-out-loud hilarious, narrative. Dialogues are smart, absurd, and addictive; and the author's insights border on the philosophically expansive and profound."
—Santa Cruz Sentinel

"Like A Little Life and The Love Affairs of Nathaniel P., Jansma's Why We Came to the City shows us, with beauty and insight, what it's like to be young and smart in this time, and in this place. It's  a major achievement."
—Darin Strauss, author of Half a Life

"Why did we come to the city, anyway? And why on earth would we ever leave? In Jansma's able hands, these are and are not metaphors. We came because we are more ourselves as part of a collective. We came to learn our limits. We came so that we might know when to leave. This is a lively, addictive party of a book, and you're invited."
—Elisa Albert, author of After Birth

"Fantastic. This beautiful, boisterous novel is a paean to New York, to the hubris of youthful optimism, and, especially, to the powerful magnet of friendship. It's full of as much heartache and humor as the city itself. And like the city, this story will break you apart in a dozen ways, only to teach you, tenderly, how to put yourself back together. I wanted it never to end, but when I read the last page, I loved it even more. Jansma is a star."
—Alena Graedon, author of The Word Exchange

"Kristopher Jansma's dazzling Why We Came to the City is at once a tribute and a breakup letter to New York, timeless as the elegant architectural details that jut ornately from older buildings, yet timely as a phone freighted with an urgent missive. The constellation of relationships he charts feels so vivid and visceral that we not only see it but find ourselves caught, swaying in its gravitational tugs and tilts. In page after page abounding with wit, candor, and compassion, Jansma reveals the indelible nature of our connections and commitments to one another, along with their gossamer fragility."
—Tim Horvath, author of Understories

"Lively and elegant . . . poised to make Jansma a name you know."
—Meredith Turits

"A deeply emotional ode to friendship . . . Jansma's narrative shines."
—Kirkus Reviews

"Jansma's compelling paean to New York City features a group of post-college friends who manage the vagaries of love and friendship against the backdrop of living in the big city. . . . A tightly written, smartly conceived story that puts an insightful spin on life in the Big Apple."
—Publishers Weekly

"This hefty novel, with its multiple characters and shifting relationships, is the kind that book clubs will love. . . . Gets at the heart of what it's like to be young and alive in the big city."
—Library Journal