Conscious Dreaming: A Spiritual Path for Everyday Life (Paperback)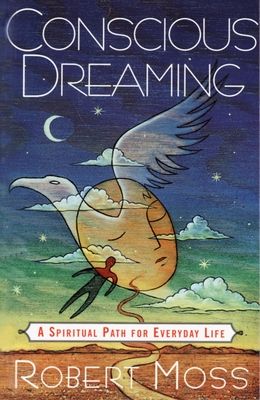 Description
---
A leader of dream workshops and seminars details a unique, nine-step approach to understanding dreams, using contemporary dreamwork techniques developed from shamanic cultures around the world.

Conscious Dreaming shows you how to use your dreams to understand your past, shape your future, get in touch with your deepest desires, and be guided by your higher self. Author Robert Moss explains how to apply shamanic dreamwork techniques, most notably from Australian Aboriginal and Native American traditions, to the challenges of modern life and embark on dream journeys. Moss's methods are easy, effective, and entertaining, animated by his skillful retelling of his own dreams and those of his students—and the dreams' often dramatic insights and outcomes.

According to Moss, some shamans believe that nothing occurs in ordinary reality unless it has been dreamed first. In the dreamscape, we not only glimpse future events, we can also develop our ability to choose more carefully between possible futures. Conscious Dreaming's innovative system of dream-catching and transpersonal interpretation, of dream re-entry adn keeping a dream journal enables the reader to tap the deepest sources of creativity and intuition and make better choices in the critical passages of life.
About the Author
---
Robert Moss is the creator of Active Dreaming, a synthesis of shamanism and modern dreamwork. Born in Australia, he survived three near-death experiences. He leads popular seminars all over the world. A former lecturer in ancient history at the Australian National University, he is a bestselling novelist, journalist, and scholar.
Praise For…
---
"Conscious Dreaming is a triumphant conttribution.... This book contains revelations for the advanced dreamer as well as the neophyte. Highly recommended."
—Patricia Garfield, author of Creative Dreaming and The Healing Powers of Dreams

"This book is highly recommended for anyone wishing to explore dreams and how they can be used constructively in the craft of life."
—Larry Dossey, author of Healing Words and Recovering the Soul