Apocalypse Ready: The Manual of Manuals; a Century of Panic Prevention (Hardcover)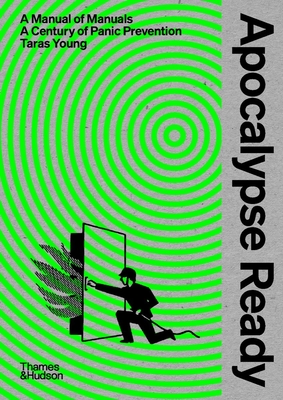 $35.00

Usually Ships in 1-5 Days
Description
---
An expertly curated compilation of over one hundred years of officially published, step-by-step guides on how to deal with every kind of disaster imaginable, drawn from government archives around the world.
Global warming continues to cause extreme weather events and threatens to destroy the planet, while the impact of the COVID-19 pandemic has reminded us that disaster can manifest at any time. These and other possible impending catastrophes have caused rising levels of collective fear in nations around the world, and increasing demand for governments to plan, prepare, and avert calamity for its citizens. In Apocalypse Ready, Taras Young collects official survival and emergency documents from the United States to the Soviet Union offering essential survival tips and invaluable life-saving strategies for every possible cataclysmic eventuality.
Organized into four broad disaster-themed scenarios—"Pandemics," "Natural Disasters," "Nuclear War," and "Alien Invasion"—this unique collection displays a plethora of questionable survival advice and scare tactics from all around the globe for response to every disaster scenario that has occurred or been imagined since the early twentieth century. From posters showing how to minimize your chances of catching the Spanish flu to documents indicating how to identify aliens, this carefully curated selection of disaster-planning documents reveals differences in public attitudes toward impending catastrophe since the 1910s. Informative commentary by Young provides historical contexts for the official advice, exploring how our universal preoccupation with apocalypse has manifested globally, and explanatory captions clarify the messages contained in the survival documents.
About the Author
---
Taras Young is the author of Nuclear War in the UK and the blog Communicating the Unthinkable, and has written articles and essays for History Today, BBC History Magazine, Fortean Times, and Wellcome. He has been researching and collecting Cold War, natural disaster, and alien invasion brochures, booklets, and posters for over a decade and contributed material to the 2018 exhibition "War of Nerves," a joint venture between the Wellcome Collection and the Wende Museum.
Praise For…
---
For those who approach bad news by laughing to keep from crying... In addition to humorous and ironic vintage illustrations and some dubious, outdated advice, there is useful advice too. It's up to the reader to decide which is which... If you aren't worried when you begin this book, you will be when you're done.
— The Atlanta Journal-Constitution