Essentials of Patents (Paperback)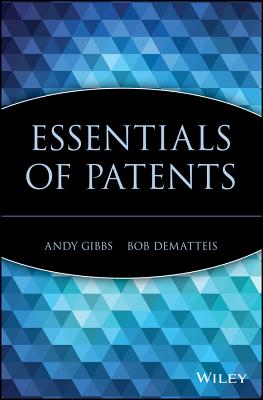 $42.50

Usually Ships in 1-5 Days
Description
---
While there are many books on "how to patent" and patent law, Essentials of Patents delivers practical advice on how to leverage patents as a powerful competitive corporate tool.

This is not your "ordinary patent book". It's emphasis is directed to patent management with the express emphasis of increasing shareholder value, and it's audience, each with its own chapter, includes the CEO / ICO, CFO, CTO, and cross functional managers of HR, Engineering, Manufacturing and IT. Essentials of Patents is arguably one of the first works on intellectual property that drives home the importance of patent creation, protection and exploitation throughout the enterprise.

Gibbs and DeMatteis show how patents can enhance competitive intelligence, product development cost reduction, product line expansion, and revenue streams, making this guide a must-have for the savvy manager.

In it, the authors introduce a new management methodology: Patent Quality Management, or "PQM". With public company market values more than 90% attributable to the value of intangible assets and patents, the time has come for all corporate managers, not just R&D and legal counsel, to master intellectual property management in this competitive global market (and shareholders are demanding it).
About the Author
---
Andy Gibbs is President and CEO of PatentCafe.com, Inc. He is an inventor with 7 US and foreign patents (awarded and pending) for innovation in sports equipment, medical devices, automotive accessories, electronics & electrical connectors and merchandising aids. Gibbs is also an entrepreneur with more than 20 years experience in product--market development, strategic planning, and general business operations. He is a hands-on inventor/entrepreneur and an executive level strategist. Mr. Gibbs has provided intellectual property assessment, pre-investment analysis, operations and staffing analysis, litigation support and technical evaluations for venture capital firms, operating managers and independent inventors. The breadth of Mr. Gibbs' business experience includes front-line arbitration & litigation in Superior & Federal Courts; expert witness, and business Strategic Alliances or joint marketing development programs (Chrysler, Hertz, Isuzu, Samsonite, US Olympic Ski Team, others); Product Development Clients: ADAC Labs, DAEWOO Corp. (Korea), System Industries, National Semiconductor, Memorex, many others). Mr. Gibbs speaks internationally on intellectual property issues, has appeared on CNN/fn "Entrepreneurs Only" with Donald Van de Mark, has been interviewed on various business, invention and patent-related topics by Wired Magazine, Wall Street Journal, USA Today, the New York Times, San Jose Business Journal, Sacramento's Comstock's, and numerous other regional publications, and has appeared as guest speaker on San Francisco's KGO talk radio. Sixteen years ago Bob DeMatteis had an idea he wanted to pursue. He pursued that idea, patented it, and today has 20 U.S. Patents and 7 pending. Bob owns 16 of those patents--all of which have been licensed and have made money. You can compare his track record to what is reported by the U.S. Patent Office--that only 3% of patents ever earn money for the inventor! Sales of Bob's inventions exceed $25 million a year and are used by national giants such as Sears, McDonald's, Walgreens, Kroger and Subway. You have most likely used some of Bob's innovations at one time or another, when you carry out merchandise in one of the stores' printed plastic bags. Bob is one of the original developers of the plastic grocery sack, and is recognized as an innovative leader in the packaging industry. Bob's inventions and patents do not focus on engineering or scientific advances, but on making products "people friendly". His friendly, enthusiastic manner of training gets only rave reviews from participants. Bob is also the author of the bestseller book, From Patent to Profit, published by Penguin Putnam Press. Today, Bob is an internationally known inventor, author, in-demand speaker and a Certified Seminar Leader of the American Seminar Leaders Association. He is also a contributor and speaker on inventing and innovating at numerous colleges and universities plus the SBDC (Small Business Development Centers) and the U.S. Patent and Trademark Office and their many Depository Libraries.