Challenge Your Taxes: Homeowner's Guide to Reducing Property Taxes (Paperback)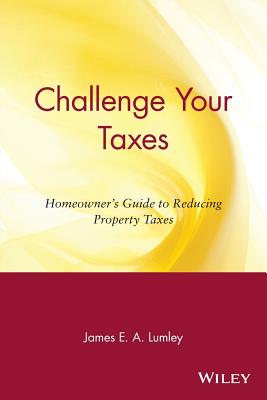 $29.00

Usually Ships in 1-5 Days
Description
---
How to save hundreds--even thousands--of dollars a year in property taxes You can't escape paying property taxes, but you can avoid paying more than you have to. This authoritative new guide explains how. Written by an experienced real estate counselor, Challenge Your Taxes helps you evaluate your property assessment and pinpoint any inaccuracies that, once amended, could dramatically reduce your tax bill. With proven guidelines and practical tips, you'll learn how to determine what your property is really worth, qualify your property for a deduction, and--in the case of an unfair assessment--prepare and present a successful appeal. Here's where you'll find complete details on:
* Property valuation--fair market value, comparable sales and cost approach, amenity considerations
* Assessors--who they are, what they do, and what they look for
* Checking your property information--study your property record file, confirm property category, use sales/assessment ratio to establish fair value
* Common assessment errors--miscalculated land area, incorrect judgment of condition, comparable sales ignored, wrong zoning classification
* Assessment appeals--summary of procedure, presentation checklist, the appeal board, abatements
Packed with helpful worksheets and numerous examples, as well as sample forms and addresses of state appeals agencies, this indispensable resource has everything you need to Challenge Your Taxes successfully.
About the Author
---
JAMES LUMLEY is a former vice chairman of the Commercial and Investment Division of the Massachusetts Association of Realtors. His previous books include How to Get a Mortgage in 24 Hours, now in its Third Edition, and Sell It by Mail, both from Wiley.