Connect to Love: The Keys to Transforming Your Relationship (Hardcover)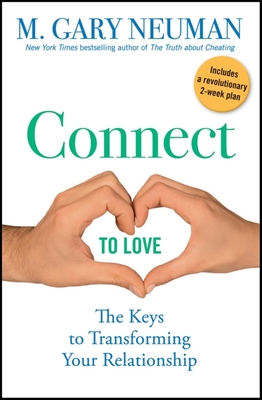 $25.95

Usually Ships in 1-5 Days
Description
---
In their own voices, women show how to strengthen your relationship-with surprising revelations from
New York Times
bestselling author Gary Neuman
This breakthrough book, based on the voices of real women from all walks of life and groundbreaking new research, shows couples how to grow stronger by understanding what women need from a romantic relationship. In Connect to Love, family counselor and relationships expert M.Gary Neuman explores the problems that women face in their marriages or relationships that might make them dissatisfied with their partners-or willing to stray. Neuman reveals the startling discoveries he made through his in-depth new research of more than five hundred women. When it comes to sexual intimacy, for instance, wives who are satisfied with their marriages have sex more than twice as frequently than those who are dissatisfied.
Includes a step-by-step two-week plan to improve your relationship
Filled with dramatic personal stories and surprising findings on sex, emotional issues, intimacy, communication, and more
From the author of the New York Times bestseller The Truth about Cheating
Neuman has been a frequent guest on Oprah, Today, and other major TV shows
Written for couples while addressing both female and male issues
Written with a compassionate and down-to-earth tone, Connect to Love will open your eyes to see relationships in a new way while empowering yourself and your partner for change.
About the Author
---
M. Gary Neuman is a licensed family counselor and rabbi.Heis the author of the New York Times bestseller "The Truth about Cheating, In Good Times and Bad, Emotional Infidelity: How to Affair-Proof Your Marriage and 10 Other Secrets to a Great Relationship, and Helping Your Kids Cope with Divorce the Sandcastles Way." He has been a frequent guest on Oprah and the Today show and has appeared on "Good Morning America, The View, Dateline NBC, NBC Nightly News, " and "CBS Weekend News." Neuman and his work have been covered in "Time, People, Cosmopolitan, Marie Claire, Parents, " and "Parenting magazines" as well as the "Washington Post, " the "Chicago Tribune, " and the "Miami Herald." For more information, visit the author's website at www.mgaryneuman.com.