The Gap: The Science of What Separates Us from Other Animals (Hardcover)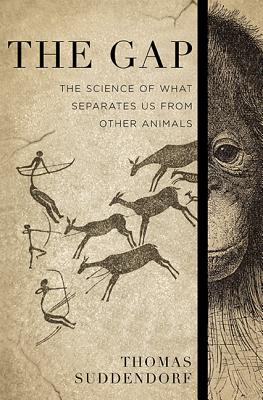 $29.99
Email or call for price
Description
---
There exists an undeniable chasm between the capacities of humans and those of animals. Our minds have spawned civilizations and technologies that have changed the face of the Earth, whereas even our closest animal relatives sit unobtrusively in their dwindling habitats. Yet despite longstanding debates, the nature of this apparent gap has remained unclear. What exactly is the difference between our minds and theirs?

In The Gap, psychologist Thomas Suddendorf provides a definitive account of the mental qualities that separate humans from other animals, as well as how these differences arose. Drawing on two decades of research on apes, children, and human evolution, he surveys the abilities most often cited as uniquely human -- language, intelligence, morality, culture, theory of mind, and mental time travel -- and finds that two traits account for most of the ways in which our minds appear so distinct: Namely, our open-ended ability to imagine and reflect on scenarios, and our insatiable drive to link our minds together. These two traits explain how our species was able to amplify qualities that we inherited in parallel with our animal counterparts; transforming animal communication into language, memory into mental time travel, sociality into mind reading, problem solving into abstract reasoning, traditions into culture, and empathy into morality.

Suddendorf concludes with the provocative suggestion that our unrivalled status may be our own creation -- and that the gap is growing wider not so much because we are becoming smarter but because we are killing off our closest intelligent animal relatives.

Weaving together the latest findings in animal behavior, child development, anthropology, psychology, and neuroscience, this book will change the way we think about our place in nature. A major argument for reconsidering what makes us human, The Gap is essential reading for anyone interested in our evolutionary origins and our relationship with the rest of the animal kingdom.
About the Author
---
Thomas Suddendorf is a professor of psychology at the University of Queensland whose research has attracted honors and awards from such organizations as the American Psychological Association, the Academy of the Social Sciences in Australia, and the Association for Psychological Science. His work has been covered by the New York Times, Discover, and Science, among other outlets. Born and raised in Germany, he lives in Brisbane, Australia.
Praise For…
---
"A compelling synthesis of the current literature on human evolution and comparative psychology to address the big questions of our species' uniqueness. Fittingly, if the origin of human potential began with our ability for imaginative storytelling, Suddendorf's narrative is an excellent addition to our species' legacy."
—Times Higher Education

"In his admirably clear and cogent first book The Gap: The Science of What Separates Us from Other Animals [Suddendorf] seeks a middle way that does justice to other species while arguing that there really are important differences between us and them.... Suddendorf's book is a fine introduction to this fascinating field and deserves a wide audience."
—Financial Times

"Our success as a dominant species, [Suddendorf] says, has depended on our ability to imagine and communicate. But he goes further, suggesting that the gap between humans and animals is widening, not because we are becoming smarter but because we are killing off our closest intelligent animal relatives. Suddendorf brilliantly fills in the gap with telling detail and acute analysis."
—The Times (UK)

"Fascinating....enjoyable....would make [a] marvellous gift."
—Nature

"An excellent work which probably stands alone in its field."
—Richard Leakey

"[A] sure-handed, fascinating book."
—Scientific American Mind

"Thought-provoking."
—Top 10 Science and Tech Books for November, The Guardian (UK)

"Wonderful.... Important and beautifully written."
—Journal of the History of Biology

"Bringing together the latest research in animal behavour, child development, anthropology, psychology and neuroscience, Suddendorf makes you think about our place in nature and puts forward a provocative argument for reconsidering what makes us human."
—The Vegetarian (UK)

"Fascinating reading.... A fine example of science made accessible for general readers, combining history, personal anecdotes, clear accounts of research and a broad picture of human evolution."
—Kirkus Reviews

"Sweeping, sharply argued, and exceptionally entertaining, The Gap tells a story that may turn out to be one of the great scientific discoveries of the century. Thomas Suddendorf is one of the world leaders in the study of the evolution of the human mind. His analysis of the 'gap' is brilliant, a veritable eye-opener. This book expands your mind. You can feel it as you read it. Begin with the first chapter. It alone is worth more than the price of the total opus."
—Endel Tulving, Professor Emeritus of Psychology, University of Toronto, and author of Elements of Episodic Memory

"A provocative and entertaining gem of a book."
—Simon Baron-Cohen, Professor of Developmental Psychopathology, Cambridge University, and author of The Science of Evil

"In this deep, illuminating investigation of the human condition, Thomas Suddendorf artfully brings the latest data from cognitive science and ethology to bear on the Greek adage: 'know thyself.'A must-read for anyone interested in evolution and the origins of humanity."
—Stanislas Dehaene, author of Reading in the Brain

"This is a thought-provoking book that gives new meaning to the phrase 'know thyself'—making it clear the endeavour should go beyond navel-gazing to ponder the larger significance of being human."
—New Scientist

"Captivating."
—Times Literary Supplement

"Beautifully written, well researched and thought provoking, The Gap searches for key differences between humans and the rest of the animal kingdom, and presents a balanced overview of the current status of our understanding of the mental abilities of animals. I found it fascinating and strongly recommend it to everyone who is curious as to how we have evolved to become the dominant species in the world today. Thank you, Thomas Suddendorf, for writing this book."
—Jane Goodall, PhD, DBE, Founder, The Jane Goodall Institute, and UN Messenger of Peace

"Suddendorf takes us systematically through the 'language, mental time travel, theory of mind, intelligence, culture, and morality' that animals may demonstrate and compares each domain to our own. He does so in delightfully direct, even evocative language.... Provocative…This is a very important book."
—Australian Book Review

"[A] fine new book."
—Weekly Standard

"With the sure-handedness of a leading scientist and the love of man and of animals of a true humanist, Suddendorf takes a close look at what makes humans unique. I learned a heck of a lot from this important book, and so will you."
—Oren Harman, Professor of the History of Science, Bar Ilan University, and author of The Price of Altruism

"The Gap brilliantly combines scholarship with accessibility, explaining often difficult ideas in plain language. This is popular science at its best—erudite, entertaining, and wonderfully informative."
—Michael Corballis, Professor of Psychology, University of Auckland, and author of The Recursive Mind

"In this fascinating discussion of the gap between us and other species, Suddendorf poses a series of questions about what makes us uniquely human. The reader is taken on a tour of intriguing and sometimes bizarre research tales interwoven with the author's observations of his own children and other animals. Written in a friendly, accessible style, this book is a must read for anyone interested in who we are and why—or if—we are special."
—Niki Harré, author of Psychology for a Better World

A PUBLISHERS WEEKLY Top 10 Fall Science Title

A BBC FOCUS Editor's Choice

"[The Gap] provides a new lens through which to see the world. Read it, and you might never look at yourself or your household pets in the same light."
—Science Magazine

"A rewarding, thought-provoking journey.... Mr. Suddendorf cuts an entertaining swath through a thicket of research studies on primate cognition.... The author's style is not only consistently interesting and informative but at times delightfully playful.... A welcome addition to the growing literature explaining science to the intelligent layperson."
—Wall Street Journal

"Suddendorf is a skillful guide through 'the gap' between animal and human minds. He describes clever animal experiments and observational work with lucidity. He ends with a plea. Our ape cousins are dying out. It's vital that we use our unique powers of foresight to prevent the gap from widening. [Five stars]"
—BBC Focus