The Lion Is In: A Novel (Paperback)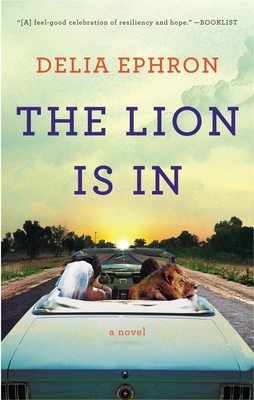 for information about purchasing this book, please contact orders@bookpassage.com
Description
---
"One of the sharpest observers of human behavior around."—Booklist (starred review)

BY THE NEW YORK TIMES BESTSELLING AUTHOR OF SIRACUSA, coming in trade paperback on June 6, 2017!

Tracee is a runaway bride and kleptomaniac. Lana's an audacious beauty, a recovering alcoholic. Rita is a holy-roller minister's wife, desperate to escape her marriage. One warm summer's night, these three women go on the lam together. Their car breaks down on a rural highway in North Carolina and they're forced to seek shelter in a seemingly abandoned nightclub. Which is where they meet Marcel. And soon everything changes. Marcel, you see, is a lion.

Written with the deftness, humor, and sparkling wit that mark her books, plays, and movies, Delia Ephron's The Lion Is In is an unforgettable story of friendship, courage, love—and learning to salsa with the king of the jungle.
About the Author
---
Delia Ephron is a bestselling author and screenwriter. She has written novels, including the New York Times bestselling Siracusa, The Lion Is In and Hanging Up; humor books for all ages, including How to Eat Like a Child and Do I Have to Say Hello?; and nonfiction, most recently Sister Mother Husband Dog (etc.). Her films include You've Got Mail, The Sisterhood of the Traveling Pants, Hanging Up (based on her novel), and Michael. Her journalism has appeared in The New York Times, O, The Oprah Magazine, Vogue, and Vanity Fair. Her hit play Love, Loss, and What I Wore (co-written with Nora Ephron) ran for more than two years off-Broadway and has been performed all over the world. She lives in New York City.
Praise For…
---
"One of the sharpest observers of human behavior around, Ephron, with her trademark mastery of smart, snappy dialogue, delivers a read-in-one-sitting, feel-good celebration of resiliency and hope."—Booklist (starred review)

"Imagine if Siegfried & Roy had written Water for Elephants… The Lion Is In is off to the races from the first sentence. [A] fun ride."—San Antonio Express News 

"Readers seeking a heartfelt, offbeat adventure will adore Ephron's fragile but feisty heroines…The perfect getaway for readers who long to reconnect with their inner selves, this quirky comedy's sense of wonder will delight and inspire."—Shelf Awareness for Readers

"Three women embark on a journey of self-discovery, facilitated by a giant feline, in Ephron's whimsical but winsome third novel."—Kirkus Reviews 

"A gentle fable."—O, The Oprah Magazine

"The best kind of chick lit—an engaging feminist romance from which the reader emerges with a welcome mood boost. Twinkling with wit and warmth, it also packs a moral punch: We need to forgive not just each other, but ourselves, make amends wherever we can and just ease the heck up already."—Newark Star Ledger

PRAISE FOR SIRACUSA

A New York Times Bestseller
One of People Magazine's Top 10 Books of 2016
Publishers Weekly Best Book of 2016 (Fiction)

A Washington Post Bestseller • A Los Angeles Times Bestseller • A USA Today Bestseller • One of Vulture's 100 Greatest Beach Books Ever • A People Magazine Summer Reading Pick • One of Elle, InStyle, and Marie Claire's Best of July

"A stunning portrait of two marriages coming unraveled during the stress of travel abroad. Insightful and engaging. A must-read!"—Sue Grafton, author of X 

"An Italian aria, a Greek tragedy and a modern American master­piece written by Delia Ephron at the height of her powers. This is a story of two complicated marriages, one vulnerable child, and a trip to Italy that changes each of their lives forever. Secrets, lies, love raging, love dying, and the shame of unrealized potential are exposed in detail under the Sicilian sun. And, like the Moro blood oranges that grow there with abandon, the taste is both sour and sweet at once, but the bitterness that remains is not only haunting but unforgettable."—Adriana Trigiani, author of The Shoemaker's Wife 

"An unusually crackling, tricky journey into the distant land of other people's marriages: their secrets, paradoxes, weaknesses, and plea­sures. Delia Ephron writes like a warm-blooded Patricia Highsmith, her sto­ry's treachery matched by a deep and easy feel for the various human, imperfect ways that people find themselves bound together, and sometimes painstakingly unbind themselves. An absorbing, tense, and original novel."—Meg Wolitzer, author of The Interestings