Girls Who Like Boys Who Like Boys: True Tales of Friendship Between Straight Women and Gay Men (Paperback)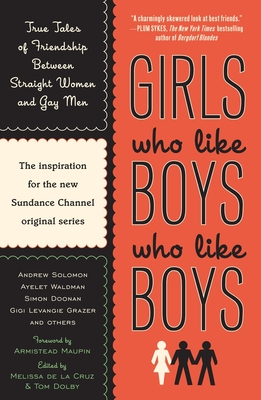 for information about purchasing this book, please contact orders@bookpassage.com
Description
---
A literary celebration of one of the most important relationships in a straight girl's life—her gay best friend

This collection of original essays goes beyond the banter to get to the essence of an intimate relationship like no other. With a foreword by Tales of the City author Armistead Maupin, Girls Who Like Boys Who Like Boys brings together pieces by National Book Award winner Andrew Solomon (The Noonday Demon), novelist Gigi Levangie Grazer (The Starter Wife), Barneys New York creative director Simon Doonan (Nasty), and many others from all walks of life. In addition to stories of gays and gals bonding over brunch, these essays chronicle love and lust, infatuation and heartbreak, growing up and coming out, and family and children. With genuine warmth, this definitive anthology proves that more durable than diamonds, straight women and gay men are each other's true best friends.
About the Author
---
Melissa de la Cruz is the New York Times, USA Today, Wall Street Journal, Los Angeles Times and Publishers Weekly internationally bestselling author of many critically acclaimed novels. Her Blue Bloods series has sold over three million copies, and the Witches of East End series became an hour-long television drama on the Lifetime network.

Tom Dolby is a filmmaker and novelist. His screenwriting and directorial debut, Last Weekend, premiered at the San Francisco International Film Festival and was released by IFC/Sundance Selects. Tom is the author of four novels, including the bestseller The Trouble Boy, and the critically acclaimed boarding school tale The Sixth Form. He lives in Los Angeles with his two daughters and too many dogs.

Armistead Maupin was served as a naval officer in the Mediterranean and with the River Patrol Force in Vietnam. In 1976, he launched his groundbreaking Tales of the City serial in the San Francisco Chronicle. Maupin is the author of nine novels, including the six-volume Tales of the City series, Maybe the Moon, The Night Listener and Michael Tolliver Lives. The Night Listener became a feature film starring Robin Williams and Toni Collette. Maupin lives in San Francisco with his husband, Christopher Turner.
Praise For…
---
"These pages resound with two main sentiments: 'If you're lucky, really lucky, you have one friend in this life who feels like a gift' and 'Getting a gay boyfriend enriches life immeasurably.' This collection of original essays celebrates the fierce bond and special intimacy between straight women and their gay male best friends, as well as the sometimes disheartening realization that the boy you like, likes boys. Many essays soar with strong insights into love, humanity and the nature of friendship. James Lecesne writes a letter to a friend that whimsically deconstructs their 15-year friendship while revealing just how lifesaving it was. Cindy Chupack, on the verge of getting married again, embarks on a bittersweet reunion with her gay ex-husband. And Karen Robinovitz rhapsodizes on the joys of shopping with gay men and why when getting married one should, instead of bridesmaids, opt for 'bridesgays.' Contributors also include some familiar writers from the worlds of journalism, film, TV, theater and fiction, like Anna David, David Ebershoff, Michael Musto and Andrew Solomon. Though bookstores aren't lacking for lesbian and gay anthologies, this one justifies itself by tapping a less-explored subject with fresh voices and fervent first-person accounts."—Publishers Weekly

 "A charmingly skewered look at best friends."—Plum Sykes, author of Bergdorf Blondes

"In essays that run the gamut from hilarious to profound, Girls Who Like Boys Who Like Boys shatters the stereotype of the 'fag hag' supplanting it with vivid, heart-felt portraits of the complicated, compassionate women who enrich our lives. It's a valentine to that rare kind of love, one free from the maddening trap of desire, and proof that sisterhood ain't just for girls."—Doug Wright, Pulitzer Prize-winning playwright of Grey Gardens and I Am My Own Wife