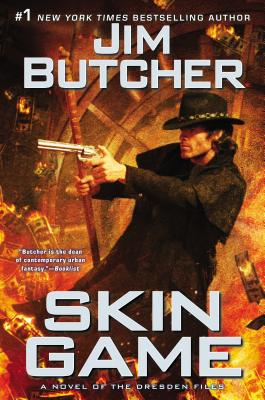 $27.95
Email or call for price
Other Books in Series
This is book number 15 in the Dresden Files (ROC Hardcover) series.
Description
---
-Butcher is the dean of contemporary urban fantasy.---Booklist
Harry Dresden, Chicago's only professional wizard, is about to have a very bad day...
Because as Winter Knight to the Queen of Air and Darkness, Harry never knows what the scheming Mab might want him to do. Usually, it's something awful.
.
He doesn't know the half of it...
Mab has just traded Harry's skills to pay off one of her debts. And now he must help a group of supernatural villains--led by one of Harry's most dreaded and despised enemies, Nicodemus Archleone--to break into the highest-security vault in town, so that they can then access the highest-security vault in the Nevernever.
It's a smash and grab job to recover the literal Holy Grail from the vaults of the greatest treasure hoard in the supernatural world--which belongs to the one and only Hades, Lord of the freaking Underworld and generally unpleasant character. Worse, Dresden suspects that there is another game afoot that no one is talking about. And he's dead certain that Nicodemus has no intention of allowing any of his crew to survive the experience. Especially Harry.
Dresden's always been tricky, but he's going to have to up his backstabbing game to survive this mess--assuming his own allies don't end up killing him before his enemies get the chance...

About the Author
---
A martial arts enthusiast whose resume includes a long list of skills rendered obsolete at least two hundred years ago, #1 New York Times bestselling author Jim Butcher turned to writing as a career because anything else probably would have driven him insane. He lives mostly inside his own head so that he can write down the conversation of his imaginary friends, but his head can generally be found in Independence, Missouri.
Praise For…
---
Praise for Jim Butcher and the #1 New York Times Bestselling DRESDEN FILES

"What would you get if you crossed Spenser with Merlin? Probably you would come up with someone very like Harry Dresden."—The Washington Times

"Think Buffy the Vampire Slayer starring Philip Marlowe."—Entertainment Weekly

"Harry Dresden is perhaps the best-written supernatural detective working today."—SFRevu

"Superlative."—Publishers Weekly (Starred Review)

"The Dresden Files is still one of the most consistently well-written urban fantasy series in existence."—LoveVampires

"An edge-of-your-seat thriller."—Locus

"Butcher…spins an excellent noirish detective yarn in a well-crafted, supernaturally charged setting."—Booklist (Starred Review)

"A great series…one of the most enjoyable marriages of the fantasy and mystery genres on the shelves."—Cinescape

"This stunning, exciting series entry with its heart-stopping action will shock and thrill Butcher fans."—Library Journal