Willing Sacrifice: The Sentinel Wars (Mass Market)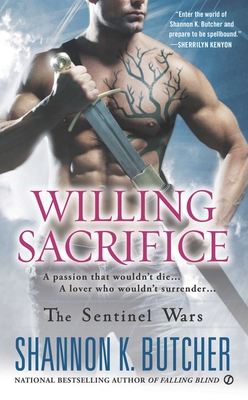 for information about purchasing this book, please contact orders@bookpassage.com
Other Books in Series
This is book number 8 in the The Sentinel Wars series.
Description
---
They are the Sentinels. Three races descended from ancient guardians of mankind, each possessing unique abilities in their battle to protect humanity against their eternal foes: the Synestryn. Now a warrior weighs the price he will pay for love....

Theronai warrior Torr has never forgotten Grace, the human who stole his heart and nearly gave her life to save his. So when he is summoned to the aid of Brenya, the powerful woman who healed Grace, he is devastated to find that Grace's cure has left her mind devoid of any memory of Torr or their love.

However, despite not knowing who he is, Grace is inexplicably drawn to the dark warrior. As they team up to stop the invasion that threatens the people Grace now considers family, her memories slowly start resurfacing. But sometimes the past is best forgotten—a lesson that Torr may learn too late....
About the Author
---
Since launching her career in 2007, Shannon K. Butcher has penned more than eighteen titles. Willing Sacrifice is the eighth in the paranormal romance series the Sentinel Wars, following Burning Alive, Finding the Lost, Running Scared, Living Nightmare, Blood Hunt, Bound by Vengeance, Dying Wish, and Falling Blind.  She is also the author of the action-romance series the Edge, including the novels Living on the Edge, Razor's Edge and Edge of Sanity, and a handful of romantic-suspense novels and works of short fiction. Being a former engineer and current nerd, she frequently uses charts, graphs, and tables to aid her in the mechanics of story design and to keep track of all those pesky characters and magical powers. An avid beader and glass artist, she spends her free time making jewelry she often gives away in contests on her website.
Praise For…
---
Praise for Shannon K. Butcher's Sentinel Wars

"Enter the world of Shannon K. Butcher and prepare to be spellbound."—Sherrilyn Kenyon

"A wonderful paranormal debut....Shannon K. Butcher's talent shines."—New York Times bestselling author Nalini Singh

"An entertaining and thrilling series."—Fresh Fiction 

"Absorbing."—Publishers Weekly

"Butcher's rise to the top of the paranormal and romantic-suspense genres has been swift.…Her hallmark is consistent superior storytelling that combines emotional punch with high-adrenaline danger—a recipe that can't miss!"—Romantic Times

"Exerts much the same appeal as Christine Feehan's Carpathian series, what with tortured heroes, the necessity of finding love or facing a fate worse than death, hot lovemaking, and danger-filled adventure."—Booklist

"An exciting romantic urban fantasy....Shannon K. Butcher adds her trademark suspense with plenty of tension and danger to the mix of a terrific paranormal thriller."—Midwest Book Review