U is For Undertow: A Kinsey Millhone Novel (Abridged / CD-Audio)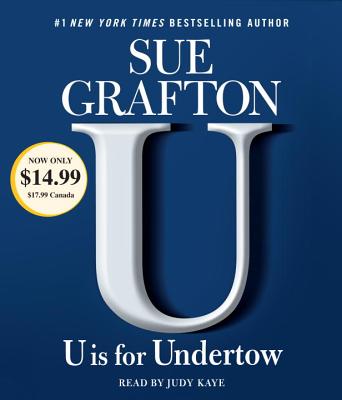 for information about purchasing this book, please contact orders@bookpassage.com
Other Books in Series
This is book number 21 in the A Kinsey Millhone Novel series.
Description
---
It's April 1988, a month before Kinsey Millhone's thirty-eighth birthday, and she's alone in her office catching up on paperwork when a young man arrives unannounced.  Michael Sutton is twenty-seven, an unemployed college dropout. More than two decades ago, a four-year-old girl disappeared, and a recent newspaper story about her kidnapping has triggered a flood of memories. Sutton now believes he stumbled on her lonely burial and could identify the killers if he saw them again. He wants Kinsey's help in locating the grave and finding the men. It's way more than a long shot, but he's persistent and willing to pay cash up front. Reluctantly, Kinsey agrees to give him one day of her time.
But it isn't long before she discovers Sutton has an uneasy relationship with the truth. In essence, he's the boy who cried wolf. Is his story true, or simply one more in a long line of fabrications?

Moving effortlessly between the 1980s and the 1960s, and changing points of view as Kinsey pursues witnesses whose accounts often clash. Gradually, listeners come to see how everything connects in this twisting, complex, surprise-filled thriller. And as always, at the beating heart of her fiction is Kinsey Millhone, a sharp-tongued, observant loner who never forgets that under the thin veneer of civility is a roiling dark side to the soul.
About the Author
---
Sue Grafton lives in Montecito, California, and Louisville, Kentucky. Most recently, she was named a Grand Master by the Mystery Writers of America.