The Hidden Staircase/The Ghost of Blackwood Hall/The Thirteenth Pearl (Hardcover)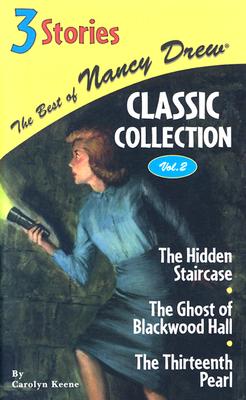 $14.99
Email or call for price
Description
---
#2 The Hidden Staircase Nancy must use her courage and powers of deduction to solve the mysterious happenings in an old stone mansion.
#25 The Ghost of Blackwood Hall Nancy and her friends travel to the colorful French Quarter in New Orleans to search for missing jewelry and to solve the mystery of the Ghost of Blackwood Hall.
#56 The Thirteenth Pearl Nancy's search for a missing pearl takes her on a journey to the Far East.
About the Author
---
Carolyn Keene is a pen name used by a variety of authors for the classic Nancy Drew Mystery series. The first author to use the pseudonym was Mildred Wirt Benson, who wrote 23 of the original 30 books. Other writers who have adapted the "Carolyn Keene" moniker include Leslie McFarlane, James Duncan Lawrence, Walter Karig, and Nancy Axelrod.