Nancy Drew 54: The Strange Message in the Parchment (Hardcover)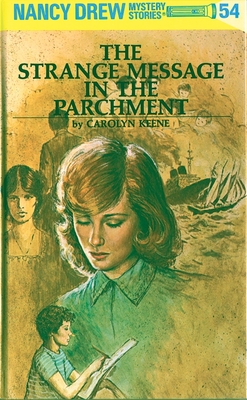 Other Books in Series
This is book number 54 in the Nancy Drew series.
Description
---
A sheep farmer receives a mysterious telephone call shortly after he buys a series of pictures painted on parchment. "Decipher the message in the parchment and right a great wrong," the voice says. Puzzled, the owner asks Nancy to help.

With Junie, his daughter, Nancy tracks down a kidnapper and a group of extortionists. Is there a connection between the message in the parchment and a boy artist on another farm? And who is responsible for the atmosphere of fear in the neighborhood? After several harrowing experiences, Nancy begins to tighten the net around a ruthless villain and calls on the assistance of her friends Ned, Burt, Dave, Bess and George to bring his nefarious scheme to a dead end.
About the Author
---
Carolyn Keene is a pen name used by a variety of authors for the classic Nancy Drew Mystery series. The first author to use the pseudonym was Mildred Wirt Benson, who wrote 23 of the original 30 books. Other writers who have adapted the "Carolyn Keene" moniker include Leslie McFarlane, James Duncan Lawrence, Walter Karig, and Nancy Axelrod.