Nancy Drew 47: the Mysterious Mannequin (Hardcover)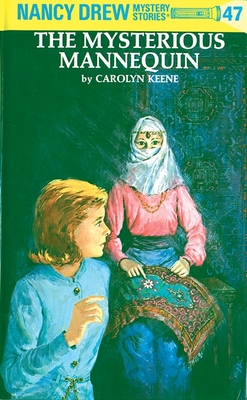 Other Books in Series
This is book number 47 in the Nancy Drew series.
Description
---
The strange disappearance of a young Turkish client of Mr. Drew's and the gift of an Oriental rug with a coded message woven into its decorative border start Nancy on a difficult search for a missing mannequin. What happened to the attractive figure that Farouk Tahmasp used in the display window of this rug shop? Who is trying to keep Nancy from finding it – and why?

Tracking down the intricate trail of clues takes Nancy and her friends Bess and George, Ned, Burt, and Dave to Turkey. Their sleuthing leads them to the Grand Bazaar in the exotic city of Istanbul, where Bess mysteriously disappears. Suspense mounts when Nancy encounters a vengeful enemy at an ancient underground reservoir.

Events move swiftly as Nancy and her friends try to solve this challenging mystery!
About the Author
---
Carolyn Keene is a pen name used by a variety of authors for the classic Nancy Drew Mystery series. The first author to use the pseudonym was Mildred Wirt Benson, who wrote 23 of the original 30 books. Other writers who have adapted the "Carolyn Keene" moniker include Leslie McFarlane, James Duncan Lawrence, Walter Karig, and Nancy Axelrod.