Nancy Drew 26: the Clue of the Leaning Chimney (Hardcover)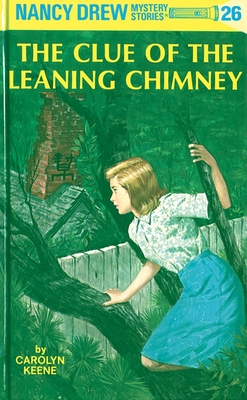 for information about purchasing this book, please contact orders@bookpassage.com
Other Books in Series
This is book number 26 in the Nancy Drew series.
Description
---
Nancy Drew and her friend Bess discover that a rare and valuable Chinese vase has been stolen from the pottery shop of Dick Milton, a cousin of Bess. Dick had borrowed the vase from his Chinese friend, elderly Mr. Soong, and he is determined to repay Mr. Soong for the loss. He tells Nancy that if he can find "the leaning chimney," he will be on the track of a discovery which will solve his financial problems. Nancy finds the leaning chimney, but it only leads her into more puzzles. Can there be any connection between the vase theft – one of a number of similar crimes – and the strange disappearance of the pottery expert Eng Moy and his daughter Lei?
About the Author
---
Carolyn Keene is a pen name used by a variety of authors for the classic Nancy Drew Mystery series. The first author to use the pseudonym was Mildred Wirt Benson, who wrote 23 of the original 30 books. Other writers who have adapted the "Carolyn Keene" moniker include Leslie McFarlane, James Duncan Lawrence, Walter Karig, and Nancy Axelrod.