Dr. Gott's No Flour, No Sugar(TM) Cookbook (Paperback)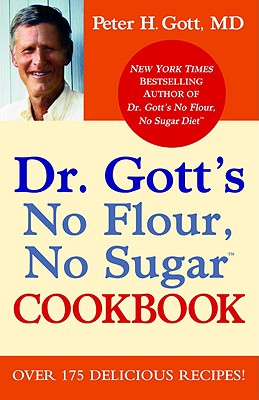 Description
---
During his 40 years of medical practice and in his nationally syndicated column, Dr. Peter Gott has been asked constantly by patients and readers for a simple, foolproof way to lose weight. In response, he developed the No Flour, No Sugar Diet, which has prompted countless success stories from his patients, thousands of letters from his readers raving about their phenomenal weight loss, and his first New York Times bestselling book, Dr. Gott's No Flour, No Sugar Diet. And now, here are more than 175 new recipes promising rapid and effective weight loss.

It's uncomplicated and inexpensive. It allows you to forget calorie counting and gram counting. Cheating is allowed! In this book, Dr. Gott shows how easy it is to experience a variety of wonderful meals (including dessert!) while eliminating flour and added sugar from your diet. Say good-bye to bagels, cakes, and cookies-and enjoy lean meats, potatoes, rice, low-fat dairy products, vegetables, and fruits. The inexpensive and nutritious dishes make maintaining this diet a snap for everyone, with recipes such as:

Breakfast: Faux French Toast, Spicy Scrambled Eggs, Potato Pancakes with Applesauce

Soups: Creamy Tomato Soup, Turkey and Barley Soup, Cuban Black Bean Soup

Appetizers: Sausage-Stuffed Mushrooms, Salmon Cakes on Spinach, Cheesy Eggplant Wedges

Entrees: Asparagus and Chicken Pasta, Stir-Fried Beef with Bean Threads, Jasmine Turkey Rice

Desserts: Fruity Rice Pudding, Blueberry Raspberry Crumble, Banana Bread, Mandarin Mousse...

And more.

In addition, the book includes advice on stocking your kitchen, understanding healthy carbohydrates and how to incorporate them into your diet, and avoiding the dreaded yo-yo dieting effect. Eliminate flour and sugar from your diet-shed excess pounds and enjoy your ideal weight!
About the Author
---
Peter Gott is the author of the nationally syndicated newspaper column, "Ask Dr. Gott," and his articles have appeared in USA Today, the New England Journal of Medicine, and other national publications. He recently retired after 40+ years in his own general practice in rural Connecticut. He is the author of Dr. Gott's No Flour, No Sugar Diet.