The Confession: A Novel (Paperback)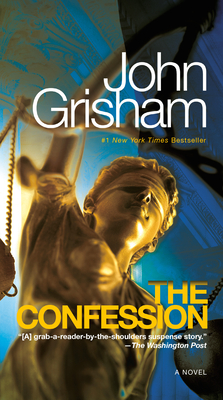 $9.99

Usually Ships in 1-5 Days
Description
---
#1 NEW YORK TIMES BESTSELLER • An innocent man is about to be executed. Only a guilty man can save him.
 
In 1998, in the small East Texas city of Sloan, Travis Boyette abducted, raped, and strangled a popular high school cheerleader. He buried her body so that it would never be found, then watched in amazement as police and prosecutors arrested and convicted Donté Drumm, a local football star, and marched him off to death row.
 
Now nine years have passed. Travis has just been paroled in Kansas for a different crime; Donté is four days away from his execution. Travis suffers from an inoperable brain tumor. For the first time in his miserable life, he decides to do what's right and confess. But how can a guilty man convince lawyers, judges, and politicians that they're about to execute an innocent man?

Don't miss John Grisham's new book, THE EXCHANGE: AFTER THE FIRM, coming soon!
About the Author
---
John Grisham is the author of forty-seven consecutive #1 bestsellers, which have been translated into nearly fifty languages. His recent books include The Judge's List, Sooley, and his third Jake Brigance novel, A Time for Mercy, which is being developed by HBO as a limited series.
 
Grisham is a two-time winner of the Harper Lee Prize for Legal Fiction and was honored with the Library of Congress Creative Achievement Award for Fiction.
 
When he's not writing, Grisham serves on the board of directors of the Innocence Project and of Centurion Ministries, two national organizations dedicated to exonerating those who have been wrongfully convicted. Much of his fiction explores deep-seated problems in our criminal justice system.
 
John lives on a farm in central Virginia.
Praise For…
---
"[A] grab-a-reader-by-the-shoulders suspense story."—The Washington Post

"[John Grisham] is a master at pacing. . . . The book starts fast and finishes faster."—Los Angeles Times

"Packed with tension, legal roadblocks and shocking revelations."—USA Today