20,000 Secrets of Tea: The Most Effective Ways to Benefit from Nature's Healing Herbs (Mass Market)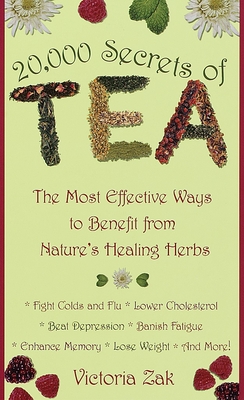 $8.99
Email or call for price
Description
---
An accessible guide to the medicinal properties of teas, featuring delicious, refreshing, and soothing drinks that can help you fight cold and flu, lower cholesterol, enhance memory, lose weight, and more!
 
An ancient Chinese legend: Once there was a man who knew 100,000 healing properties of herbs. He taught his son 80,000 secrets. On his deathbed, he told his son to visit his grave in five years, and there he would find the other 20,000 secrets. When the son went to his father's grave, he found, growing on the site, a tea shrub. . . .
 
Tea has been a favorite beverage worldwide for hundreds of years. A cup of tea on a rainy evening can chase the chills away and a pot of tea shared among friends can lend an air of enchantment to an afternoon. But more than that, teas are the gentle, natural, most beneficial way to absorb the healing properties of herbs—easily and inexpensively. A simple cup of tea not only has the power to soothe and relax but to deliver healing herbal agents to the bloodstream more quickly than capsules, tinctures, or infusions. In this invaluable guide, you'll discover:
 
• An A-Z listing of common ailments and the teas best used to help combat them
• Instructions on how to create your own medicinal kitchen
• Advice on creating your own tea blends
• Descriptions of 100 popular herbs and their healing properties
• And more!
 
Hot or iced, the recipes in 20,000 Secrets of Tea offer delicious ways to stay healthy and revitalize you from the inside out.
About the Author
---
Victoria Zak is an award-winning writer, researcher, and co-author of The Fat to Muscle Diet and The Dieter's Dictionary and Problem Solver. Her work has appeared in many national publications, including Ladies' Home Journal, Prevention, Shape, USA Today, The Boston Globe, and Glamour.  She lives in Massachusetts and has been featured in Who's Who in the East.