Apprendre Avec Les Animaux: Les Formes (Board Books)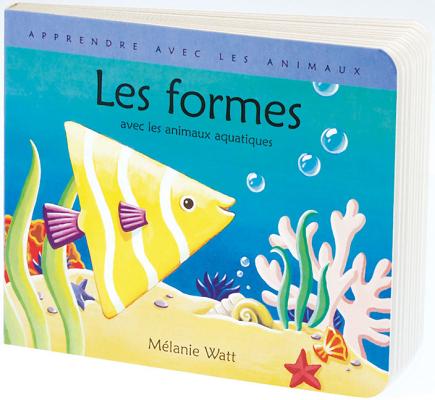 $7.99
Email or call for price
Description
---
See below for English description.
Chaque livre de cette collection invite les tout-petits rendre visite des animaux de diff rents groupes. Ainsi, les jeunes apprendront les couleurs avec les animaux des tropiques, les chiffres avec ceux de la ferme et les contraires avec ceux des deux p les. Les animaux de l'oc an les guideront travers le monde des formes alors que des animaux sauvages se chargeront de leur montrer les lettres de l'alphabet.
Youngsters are endlessly fascinated by animals, so what better way to teach them about the basic concepts? Animals of the ocean display both simple and complex shapes in this board book from the Learning with Animals series --- perfect for little hands.
Original Title: Shapes
About the Author
---
Si vous avez lu ses histoires, vous la connaissez d?j? un peu, car M?lanie Watt s'inspire de ce qui l'entoure et de situations v?cues quand elle ?tait enfant. Elle avoue qu'il y a un peu d'elle-m?me dans chacun de ses petits personnages. Comme L?on le cam?l?on, elle est un peu timide; comme Frisson l'?cureuil, elle aime le confort et la s?curit? de ce qui lui est familier. Mais lequel de ses personnages lui ressemble le plus? C'est sans aucun doute Augustine, le charmant petit manchot qui d?m?nage au p?le Nord. M?lanie ?crit en fran?ais et illustre ses propres livres, ce qui lui permet de cr?er des histoires et des d?cors exactement comme elle les imagine. Ses livres d?bordent de r?alisme, d'humour et d'?motions. Elle aborde des th?mes tels que le d?m?nagement, la peur de l'inconnu et les relations entre amis. Ses personnages, des animaux, sont toujours attachants et ont une personnalit? bien ? eux. La jeune auteure-illustratrice a remport? pour son travail de prestigieuses r?compenses, dont le Prix Ruth and Sylvia Schwartz, le Prix Blue Spruce et le Prix Amelia Frances Howard-Gibbon, tous les trois pour Frisson l'?cureuil. M?lanie n'est mais ? court d'id?es. De toute fa?on, elle a de l'aide ? cet ?gard, car elle ne travaille pas seule dans son studio, ? sa maison de Saint-Stanislas-de-Kostka. Son perroquet vert, Kiwi, est toujours ? ses c?t?s. Aux jeunes, elle lance le message suivant: ? C'est incroyable ce qu'on peut accomplir quand on fait ce qu'on aime! Lorsqu'on trouve un milieu o? l'on est ? l'aise et l'o? on peut donner le meilleur de soi-m?me, c'est extr?mement valorisant! ?M?lanie est n?e ? Trois-Rivi?res, le 20 ao't 1975. Elle d?tient un baccalaur?at en graphisme de l'Universit? du Qu?bec ? Montr?al.