On Her Majesty's Frightfully Secret Service (A Royal Spyness Mystery #11) (Hardcover)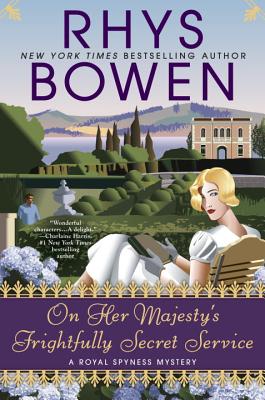 for information about purchasing this book, please contact orders@bookpassage.com
Other Books in Series
This is book number 11 in the A Royal Spyness Mystery series.
Description
---
In the new Royal Spyness Mystery from the New York Times bestselling author of Crowned and Dangerous, Lady Georgiana Rannoch juggles secret missions from the Queen, Darcy, and her mother. But it's all in a day's work when you're thirty-fifth in line to the British Crown. 

When Darcy runs off on another secret assignment, I am left to figure out how to travel to Italy sans maid and chaperone to help my dear friend Belinda, as she awaits the birth of her baby alone. An opportunity presents itself in a most unexpected way—my cousin the queen is in need of a spy to attend a house party in the Italian lake country. The Prince of Wales and the dreadful Mrs. Simpson have been invited, and Her Majesty is anxious to thwart a possible secret wedding.  

What luck! A chance to see Belinda and please the queen as I seek her permission to relinquish my claim to the throne so I can marry Darcy. Only that's as far as my good fortune takes me. I soon discover that Mummy is attending the villa party and she has her own secret task for me. Then, Darcy shows up and tells me that the fate of a world on the brink of war could very well depend on what I overhear at dinner! I shouldn't be all that surprised when one of my fellow guests is murdered and my Italian holiday becomes a nightmare...
About the Author
---
Rhys Bowen, a New York Times bestselling author, has been nominated for every major award in mystery writing, including the Edgar®, and has won many, including both the Agatha and Anthony awards. She is the author of the Royal Spyness Mysteries, set in 1930s London, the Molly Murphy Mysteries, set in turn-of-the-century New York, and the Constable Evans Mysteries, set in Wales. She was born in England and now divides her time between Northern California and Arizona.
Praise For…
---
Praise for the Royal Spyness Mysteries

"Wonderful characters…A delight."—#1 New York Times bestselling author Charlaine Harris

"An insightful blend of old-fashioned whodunnit, clever satire and drawing room comedy of errors."—New York Times bestselling author Jacqueline Winspear

"Brilliant…This is so much more than a murder mystery. It's part love story, part social commentary, part fun and part downright terrifying. And completely riveting."—#1 New York Times bestselling author Louise Penny

"The perfect fix...for Downton Abbey addicts."—New York Times bestselling author Deborah Crombie

"Fans of P.G. Wodehouse looking for laughs mingled with some amateur sleuthing will be quite pleased."—Publishers Weekly (starred review)

"Georgie's high spirits and the author's frothy prose are utterly captivating."—The Denver Post

"A smashing romp."—Booklist (starred review)