Routledge Handbook of International Environmental Law (Hardcover)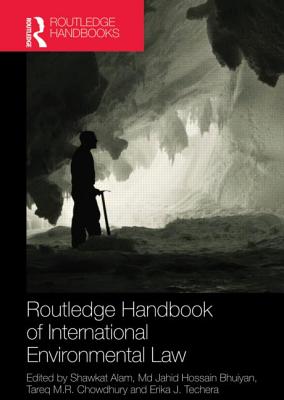 $200.00
Email or call for price
Description
---
The Routledge Handbook of International Environmental Law is an advanced level reference guide which provides a comprehensive and contemporary overview of the corpus of international environmental law (IEL). The Handbook features specially commissioned papers by leading experts in the field of international environmental law, drawn from a range of both developed and developing countries in order to put forward a truly global approach to the subject. Furthermore, it addresses emerging and cross-cutting issues of critical importance for the years ahead.
The book is split into six parts for ease of reference:
The Legal Framework, Theories and Principles of International Environmental Law - focuses on the origins, theory, principles and development of the discipline;
Implementing International Environmental Law - addresses the implementation of IEL and the role of various actors and institutions, including corporations, intergovernmental organisations and NGOs;
Key Issues and Legal Frameworks - brings fresh perspectives of the common general issues of international environmental law, such as biological diversity and marine environmental law;
Regional Environmental Law - explores the specific regimes developed to address regional environmental issues, considering the evolution, prospects and relationship of regional law and mechanisms to IEL;
Cross-Cutting Issues - considers the engagement of international environmental law with other key fields and legal regimes, including international trade, human rights and armed conflict;
Contemporary and Future Challenges - analyses pressing current and emerging issues in the field including environmental refugees and climate change, REDD and deforestation, and 'treaty congestion' in IEL.
This up-to-date and authoritative book makes it an essential reference work for students, scholars and practitioners working in the field.
About the Author
---
Shawkat Alam is a Senior Lecturer and Director of the Centre for International and Environmental Law at Macquarie University where he teaches and researches in the areas of international and environmental law. His recent publication includes Sustainable Development and Free Trade (Routledge, 2008). Md. Jahid Hossain Bhuiyan teaches law in the Department of Law, ASA University Bangladesh. He was a visiting scholar of Emory Law School, USA. During his studies in Belgium he gained experience in legal practice. He is co-editor of Globalization, International Law, and Human Rights (OUP, 2012). Dr Tareq M.R. Chowdhury is Professor and Dean at the Faculty of Law, ASA University Bangladesh. He was faculty member of Stockholm University, Sweden. He has contributed many research articles. He is the author of Legal Framework of International Supervision (Stockholm University, 1986). Erika J Techera is a Professor at The University of Western Australia where she teaches and researches in international and comparative environmental law. She is the author of Marine Environmental Governance: from International Law to Local Practice (Routledge, 2012) and previously practised as a barrister.