Science in the Soul: Selected Writings of a Passionate Rationalist (Paperback)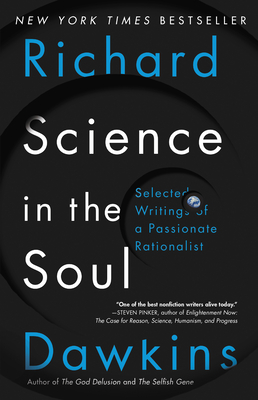 for information about purchasing this book, please contact orders@bookpassage.com
Description
---
NEW YORK TIMES BESTSELLER • The legendary biologist and bestselling author mounts a timely and passionate defense of science and clear thinking with this career-spanning collection of essays, including twenty pieces published in the United States for the first time.

For decades, Richard Dawkins has been a brilliant scientific communicator, consistently illuminating the wonders of nature and attacking faulty logic. Science in the Soul brings together forty-two essays, polemics, and paeans—all written with Dawkins's characteristic erudition, remorseless wit, and unjaded awe of the natural world.

Though it spans three decades, this book couldn't be more timely or more urgent. Elected officials have opened the floodgates to prejudices that have for half a century been unacceptable or at least undercover. In a passionate introduction, Dawkins calls on us to insist that reason take center stage and that gut feelings, even when they don't represent the stirred dark waters of xenophobia, misogyny, or other blind prejudice, should stay out of the voting booth. And in the essays themselves, newly annotated by the author, he investigates a number of issues, including the importance of empirical evidence, and decries bad science, religion in the schools, and climate-change deniers.

Dawkins has equal ardor for "the sacred truth of nature" and renders here with typical virtuosity the glories and complexities of the natural world. Woven into an exploration of the vastness of geological time, for instance, is the peculiar history of the giant tortoises and the sea turtles—whose journeys between water and land tell us a deeper story about evolution. At this moment, when so many highly placed people still question the fact of evolution, Dawkins asks what Darwin would make of his own legacy—"a mixture of exhilaration and exasperation"—and celebrates science as possessing many of religion's virtues—"explanation, consolation, and uplift"—without its detriments of superstition and prejudice.

In a world grown irrational and hostile to facts, Science in the Soul is an essential collection by an indispensable author.

Praise for Science in the Soul

"Compelling . . . rendered in gloriously spiky and opinionated prose . . . [Dawkins is] one of the great science popularizers of the last half-century."—The Christian Science Monitor 

"Dawkins is a ferocious polemicist, a defender of reason and enemy of superstition."—John Horgan, Scientific American
About the Author
---
Richard Dawkins is a fellow of the Royal Society and was the inaugural holder of the Charles Simonyi Chair of Public Understanding of Science at Oxford University. He is the acclaimed author of many books, including The Selfish Gene, The God Delusion, The Magic of Reality, Climbing Mount Improbable, Unweaving the Rainbow, The Ancestor's Tale, and The Greatest Show on Earth. He is the recipient of numerous honors and awards, including the Royal Society of Literature Award, the Michael Faraday Prize of the Royal Society, the Kistler Prize, the Shakespeare Prize, the Lewis Thomas Prize for Writing about Science, the Galaxy British Book Awards Author of the Year Award, and the International Cosmos Prize of Japan.
Praise For…
---
"Compelling . . . rendered in gloriously spiky and opinionated prose . . . [Richard Dawkins is] one of the great science popularizers of the last half-century."—The Christian Science Monitor 

"[Science in the Soul] showcases Dawkins's dual talents. He is a ferocious polemicist, a defender of reason and enemy of superstition. He is also an extraordinarily talented explicator and celebrator of biology. He makes complex concepts, like kin selection, pop into focus in a way that imparts a jolt of pleasure."—John Horgan, Scientific American

"These forty-one short pieces suitably capture evolutionary biologist Dawkins's reputation as a fierce proponent of rationalism, who possesses an exacting and questioning scientific mind and acerbic wit."—Library Journal

"Dawkins does not disappoint on the religion front, in which he has become known as a leading light of intellectual atheism. . . . For Dawkins fans, a must-have collection."—Kirkus Reviews

"A satisfying introduction to one of today's most prominent scientific thinkers."—Publishers Weekly

"The illumination of Richard Dawkins's incisive thinking on the intellectual world extends far beyond biology. What a treat to see so clearly how matter and meaning fit together, from fiction to philosophy to molecular biology, in one unified vision!"—Daniel C. Dennett, author of From Bacteria to Bach and Back: The Evolution of Minds

"I thank Thor and Zeus that in their infinite wisdom they chose to make the great wordsmith of our age a great rationalist, and vice versa."—Matt Ridley, author of The Evolution of Everything: How New Ideas Emerge

"In this golden age of enlightened science writing, it is stunning that no scientist has won the Nobel Prize for Literature. It is time literature's highest award be granted to a scientist whose writings have changed not just science but society. No living scientist is more deserving of such recognition than Richard Dawkins, whose every book reflects his literary genius and scientific substance. Science in the Soul is the perfect embodiment of Nobel-quality literature."—Michael Shermer, publisher of Skeptic magazine, columnist for Scientific American, and author of The Moral Arc: How Science Makes Us Better People

"Turn each page of this book slowly. Science in the Soul is packed with Dr. Dawkins's philosophy, humor, anger, and quiet wisdom, leading the reader gently but firmly to inevitable conclusions that edify and educate, while dropping in periodic bons mots that seize attention rather firmly."—James Randi, author of The Faith Healers

"Two people have earned the right to use the word 'soul' in my presence—one of them is James Brown. So now ladies and gentlemen, may I present the hardest-working man in truth and science, the other amazing Mr. Please, Please, Please himself—Richard Dawkins!"—Penn Jillette, author of God, No!