Travelers to Unimaginable Lands: Stories of Dementia, the Caregiver, and the Human Brain (Hardcover)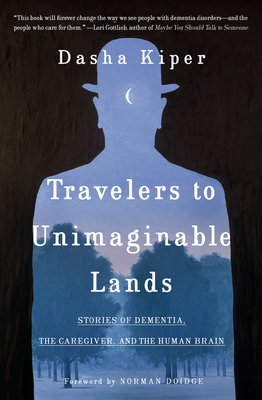 $28.00

Usually Ships in 1-5 Days
Description
---
These "moving and often surprising" (The Wall Street Journal) case histories meld science and storytelling to illuminate the complex relationship between the mind of someone with dementia and the mind of the person caring for them.
 
"[Kiper] evinces a capaciousness of sympathy and understanding for Alzheimer's patients and (especially) their caregivers that infuses her portrayals of their struggles with Sacksian humanity."—Scott Stossel, The American Scholar

After getting a master's degree in clinical psychology, Dasha Kiper became the live-in caregiver for a Holocaust survivor with Alzheimer's disease. For a year, she endured the emotional strain of looking after a person whose condition disrupts the rules of time, order, and continuity. Inspired by her own experience and her work counseling caregivers in the subsequent decade, Kiper offers an entirely new way to understand the symbiotic relationship between patients and those tending to them. Her book is the first to examine how the workings of the "healthy" brain prevent us from adapting to and truly understanding the cognitively impaired one.

In these poignant but unsentimental stories of parents and children, husbands and wives, Kiper explores the existential dilemmas created by this disease: A man believes his wife is an impostor. A woman's imaginary friendships drive a wedge between herself and her devoted husband. Another woman's childhood trauma emerges to torment her son. A man's sudden Catholic piety provokes his wife.

Why is taking care of a family member with dementia so difficult? Why do caregivers succumb to behaviors—arguing, blaming, insisting, taking symptoms personally—they know are counterproductive? Exploring the healthy brain's intuitions and proclivities, Travelers to Unimaginable Lands reveals the neurological obstacles to caregiving, enumerating not only the terrible pressures the disease exerts on our closest relationships but offering solace and perspective as well.
About the Author
---
Dasha Kiper is the former consulting clinical director of support groups at an Alzheimer's organization and has an MA in clinical psychology from Columbia University. She has worked with both dementia patients and caregivers.
Praise For…
---
"Kiper's work is deeply moving and often surprising. Through case studies both tragic and hauntingly relatable, she provides scientific grounding for what the beleaguered caregivers go through. With understanding comes the permission for, and perhaps a chance at, self-forgiveness."—The Wall Street Journal

"Kiper . . . evinces a capaciousness of sympathy and understanding for Alzheimer's patients and (especially) their caregivers. . . . For the frustrated caregiver, trapped in a vicious psychodynamic that is dehumanizing to both parties, this may provide some valuable solace."—The American Scholar

"An elegant, empathetic, immensely informative, and insightful primer for caregivers as they try to navigate the fragmented, skewed world of the cognitively impaired."—Psychology Today

"A work of exceptional compassion . . . deeply imaginative . . . immeasurably valuable."—The Guardian

"A fascinating account of the psychology of caregiving . . . The message of this compassionate book is that confusion is, deep down, part of the human condition."—The Daily Telegraph

"Inspired by her experience as a live-in carer for a Holocaust survivor with Alzheimer's disease, Kiper blends clinical psychology and literary verve in a timely exploration of the psychology of caregiving."—Financial Times

"Kiper can write with an [Oliver] Sacks–like clarity . . . A wise book, and one that is unsettling in the best way."—New Scientist

"This book will forever change the way we see people with dementia disorders—and the people who care for them."—Lori Gottlieb, author of Maybe You Should Talk To Someone

"How do we cope with those who have lost something as profound as the 'normal' sense of self? Travelers to Unimaginable Lands is a compassionate and insightful book about dementia and its startling effects."—Roz Chast, author of Can't We Talk About Something More Pleasant?

"Stirring, persuasive, and memorable . . . an eloquent and gripping book about personalities and the dances between them, exposing what dementia reveals about both the patient and the caretaker."—David Eagleman, neuroscientist at Stanford, author of Livewired

"This book—richly endowed with experience and wisdom—is a treasure. I predict a long life for Travelers to Unimaginable Lands for anyone interested in or intimately involved with those afflicted by dementia."—Vivian Gornick, author of Fierce Attachments

"Dasha Kiper's exhilarating and enlightening book offers sensitive, intimate portraits of Alzheimer's caregivers and their loved ones, enhanced by an informed tour of the mind and how it works. For them, Kiper provides a priceless way to find the meaning in the journey and to feel less alone."—Robert Kolker, author of Hidden Valley Road