Peggy Dean's Guide to Nature Drawing and Watercolor: Learn to Sketch, Ink, and Paint Flowers, Plants, Trees, and Animals (Paperback)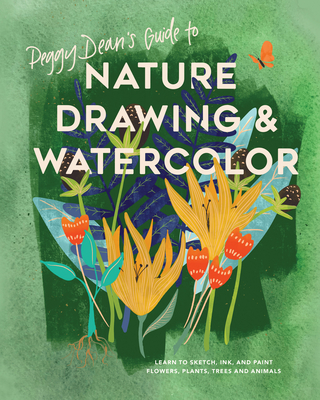 Description
---
This fun and easy-to-use nature drawing and watercolor guide is perfect for anyone inspired by nature to draw, doodle, ink, and paint colorful flora and fauna.

Artist, author, and popular art instructor Peggy Dean presents this nature drawing guide that teaches you how to master drawing and watercolor techniques from sketching and shading to washes and blending. With Peggy's easy and energetic lessons, absolutely anyone--regardless of ability--can learn to draw the natural world. Beginning with delicate cherry blossoms, wildflowers, and lacy ferns, lessons build to composing stunning bouquets of flowers and majestic landscapes. You'll also discover how to draw animals such as colorful fish and birds in flight, as well as mammals like stoic camels and the mighty polar bear. Through the lessons on technique combined with clear, detailed instructions, you'll gain the expertise and confidence that will allow you to quickly build your skills, discover your own personal style, and achieve beautiful botanical and animal illustrations.
About the Author
---
PEGGY DEAN is native to the Pacific Northwest and is a nationally recognized freelance artist, with a focus on modern calligraphy and line drawing. She is the author of the blog The Pigeon Letters and the self-published author of two best-selling how-to books: The Ultimate Brush Lettering Guide and Botanical Line Drawing. She has been featured in Style Me Pretty, Smitten magazine, and on the Today Show.
Praise For…
---
"Peggy has outdone herself again! Going through each page, I feel as though she is sitting right next to me, teaching me all her secrets and not holding anything back. This is going to be the perfect go-to reference for any artist at any stage." —ALLI KOCH, artist and author of How to Draw Modern Florals

"Peggy helps lay to rest the myth that in art and drawing, some can and some can't, and helps show that art is for those who will. If you've bought this book, then congratulations; not only can you draw, you will draw, and I bet you're going to find a lot of joy in the process." —DYLAN MIERZWINSKI, illustrator and educator

"There's an ease to Peggy's teaching style that invites the artist within to explore and grow. Comprehensive and conversational, this book leaves you empowered to embrace your creative journey through nature." —JAMIE KIM, artist