What Color Is Your Parachute? Job-Hunter's Workbook, Fifth Edition: A Companion to the Best-selling Job-Hunting Book in the World (Paperback)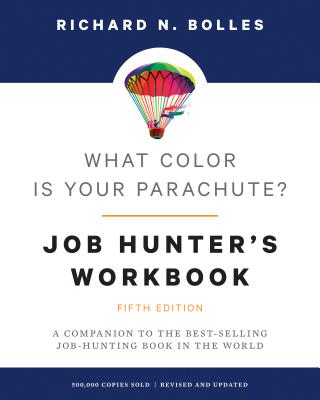 $12.99
Email or call for price
Description
---
A fill-in companion to the world's most popular job-search book, updated for 2019.

This interactive companion to the career classic What Color Is Your Parachute? is a helpful tool for recent grads, workers laid off mid-career, and people searching for an inspiring work-life change. Featuring the Flower Exercise, Party Exercise, Transferable Skills Grid, and more of Richard Bolles's helpful charts and activities, this workbook allows job-hunters to roll up their sleeves and discover their unique interests, passions, and dreams that will give them, once completed, a picture of their dream job.
About the Author
---
Richard N. Bolles led the career development field for more than 40 years. A member of Mensa and the Society for Human Resource Management, he has been the keynote speaker at hundreds of conferences. Bolles was trained in chemical engineering at the Massachusetts Institute of Technology, and holds a bachelor's degree cum laude in physics from Harvard University, a master's in sacred theology from General Theological (Episcopal) Seminary in New York City, and three honorary doctorates.
Praise For…
---
Praise for What Color Is Your Parachute?:

"One of the first job-hunting books on the market. It is still arguably the best. And it is indisputably the most popular." 
--Fast Company

"Ideally, everyone should read What Color Is Your Parachute? in the tenth grade and again every year thereafter." 
--Fortune

"What Color Is Your Parachute? is about job-hunting and career changing, but it's also about figuring out who you are as a person and what you want out of life." 
--Time

"Parachute is still a top seller and it remains the go-to guide for everyone from midlife-crisis boomers looking to change their careers to college students looking to start one." 
--New York Post

"It's basically the bible of career advice." 
--US Department of Labor

"Mr. Bolles continues to enrich and update it, expanding on concepts both universal and technical." 
--New York Times