Clean Soups: Simple, Nourishing Recipes for Health and Vitality [A Cookbook] (Hardcover)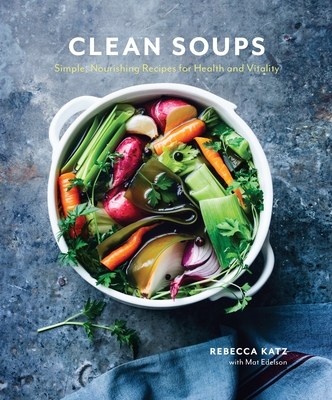 $23.00

Usually Ships in 1-5 Days
Description
---
From bestselling author Rebecca Katz comes this collection of 60 recipes for pure, cleansing soups intended to renew and restore.

Soup has a unique ability to nourish and heal the body. In Clean Soups, author Rebecca Katz shows you how to use wholesome stocks and soups to naturally detox and stay energized year-round. She also explains the building blocks for creating deliciously balanced soups, such as Moroccan carrot soup, kale soup with coconut and lime, and simplest chicken pho. With foundational broths, blended soups, and traditional healing soups, as well as a two-day cleanse, Clean Soups shows how one simple bowl can make a huge difference in how you feel.
About the Author
---
Rebecca Katz is an accomplished chef and national speaker who has worked with the country's top wellness leaders. She is the author of the award-winning The Cancer-Fighting Kitchen, as well as The Longevity Kitchen and The Healthy Mind Cookbook, as well as the founder of Healing Kitchens. She lives in the San Francisco Bay Area with her husband and two loyal kitchen dogs, Lola and Blossom, making soup. Visit RebeccaKatz.com for more information. 

Mat Edelson is an award-winning science, health, and sports writer. He is the former anchor/director of the Johns Hopkins Health Newsfeed, a nationally syndicated daily radio program. This is the fifth book he has co-authored with Rebecca Katz. He lives in Washington, DC.
Praise For…
---
"Soup, glorious soup. In this lovely book, Rebecca Katz gives you easy recipes and tips for making nourishing broths (including her famous Magic Mineral Broth), blended soups, healing soups, and a variety of garnishes for them—all colorful, delicious, and guaranteed to please."
—ANDREW WEIL, MD, founder and director of the Arizona Center for Integrative Medicine
 and author of 8 Weeks to Optimum Health, True Food Kitchen, and Fast Food Good Food

"This book is a triumph! Rebecca has harnessed the healing power of soups in spectacular fashion with this stunning collection of tips and recipes. No matter what your dietary stripes, this healthy, clean comfort food will revitalize you, body and soul, and make you voracious for vegetables." 
—TESS MASTERS, author of The Blender Girl and The Blender Girl Smoothies

"Designed for efficiency, with guidelines for pantry stocking and broth doctoring, this cookbook also includes prep times, cook times and notes alongside lush photographs. Suitable for eaters ranging from carnivores to vegans, and accommodating gluten-free and dairy-free diets, Clean Soups never compromises on flavor--promising a few simple steps between an array of ingredients and, as Katz's writes, a 'bowl of yum.'"
—KATIE WEED, Shelf Awareness