T is for Trespass (A Kinsey Millhone Novel #20) (Paperback)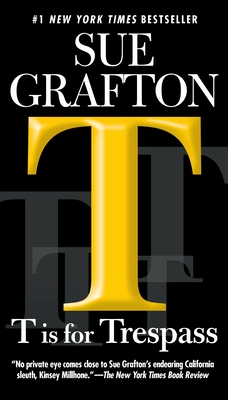 Other Books in Series
This is book number 20 in the A Kinsey Millhone Novel series.
Description
---
Sue Grafton ups the ante for private investigator Kinsey Millhone like never before in this "taut, terrifying, transfixing"* #1 New York Times bestselling mystery in the Alphabet series.

Kinsey Millhone's elderly neighbor, Gus Vronsky, may have been the original inspiration for the term "Grumpy Gus." A miser and a hoarder, Gus is so crotchety that after he takes a bad fall, his only living relative is anxious to find someone to take care of him and get back home as soon as she can.

To help, Kinsey runs a check on the applicant, Solana Rojas. Social security, driver's license, nursing certification: It all checks out. And it sounds like she did a good job for her former employers. So Kinsey gives her the thumbs-up, figuring Gus will be the ideal assignment for this diligent, experienced caregiver.

And the real Solana Rojas was indeed an excellent caregiver. But the woman who has stolen her identity is not, and for her, Gus will be the ideal victim...

"The best and strongest book in the series...Solana is one of the most evil, calculating characters Grafton has created."—*USA Today
About the Author
---
#1 New York Times bestselling author Sue Grafton first introduced Kinsey Millhone in the Alphabet Series in 1982. Soon after, both writer and heroine became icons and international bestsellers. Ms. Grafton was a writer who consistently broke the bonds of genre while never writing the same book twice. Named a Grand Master by the Mystery Writers of America, her awards and honors included the Lifetime Achievement Award from the Private Eye Writers of America, the Ross Macdonald Literary Award, the Cartier Diamond Dagger Award from Britain's Crime Writers' Association, the Lifetime Achievement Award from Malice Domestic, a Lifetime Achievement Award from Bouchercon, three Shamus Awards, and three Anthony Awards—including the first two ever awarded. She passed away in December 2017.
Praise For…
---
Praise for T is for Trespass

"Grafton, who consistently turns out grade-A novels, has outdone herself...chilling, poignant."—Forbes

"As usual, Ms. Grafton mixes deadly serious topics, in this case identity theft and elder abuse, with offbeat Kinsey-esque humor."—The Dallas Morning News

"[A] firecracker of a tale...The masterful last few chapters are among the most frightening and suspensful in the series."—The Courrier-Journal

"Gripping...one of the series' high points."—Publishers Weekly

More Praise for Sue Grafton and the Alphabet Series

"I'm going to miss Kinsey Millhone. Ever since the first of Sue Grafton's Alphabet mysteries, A Is For Alibi, came out in 1982, Kinsey has been a good friend and the very model of an independent woman, a gutsy Californian P.I. rocking a traditional man's job...it's Kinsey herself who keeps this series so warm and welcoming. She's smart, she's resourceful, and she's tough enough to be sensitive on the right occasions."—New York Times Book Review

"The consistent quality and skillful innovations in this alphabet series justify all the praise these books have received over the past 35 years."—Wall Street Journal

"A superb storyteller."—Publishers Weekly

"Grafton's endless resourcefulness in varying her pitches in this landmark series, graced by her trademark self-deprecating humor, is one of the seven wonders of the genre."—Kirkus Reviews

"Grafton is a writer of many strengths—crisp characterizations, deft plotting, and eloquent dialogue among them—and she has kept her long-running alphabet mystery series fresh and each new release more welcome than the last."—Louisville Courier-Journal

"[Grafton's] ability to give equal weight to the story of the detective and the detective story sets her apart in the world of crime fiction."—Richmond Times-Dispatch