Brain Food: The Surprising Science of Eating for Cognitive Power (Hardcover)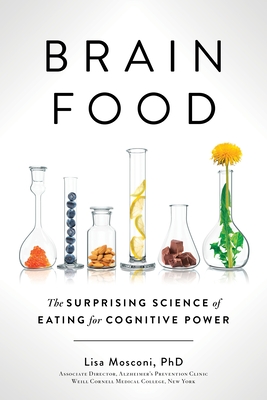 $27.00

Usually Ships in 1-5 Days
Description
---
How to eat for maximum brain power and health from an expert in both neuroscience and nutrition.

Like our bodies, our brains have very specific food requirements. And in this eye-opening book from an author who is both a neuroscientist and a certified integrative nutritionist, we learn what should be on our menu.

Dr. Lisa Mosconi, whose research spans an extraordinary range of specialties including brain science, the microbiome, and nutritional genomics, notes that the dietary needs of the brain are substantially different from those of the other organs, yet few of us have any idea what they might be. Her innovative approach to cognitive health incorporates concepts that most doctors have yet to learn. Busting through advice based on pseudoscience, Dr. Mosconi provides recommendations for a complete food plan, while calling out noteworthy surprises, including why that paleo diet you are following may not be ideal, why avoiding gluten may be a terrible mistake, and how simply getting enough water can dramatically improve alertness.

Including comprehensive lists of what to eat and what to avoid, a detailed quiz that will tell you where you are on the brain health spectrum, and 24 mouth-watering brain-boosting recipes that grow out of Dr. Mosconi's own childhood in Italy, Brain Food gives us the ultimate plan for a healthy brain. Brain Food will appeal to anyone looking to improve memory, prevent cognitive decline, eliminate brain fog, lift depression, or just sharpen their edge.
About the Author
---
Dr. Lisa Mosconi, PhD, INHC, is the associate director of the Alzheimer's Prevention Clinic at Weill Cornell Medical College (WCMC)/NewYork-Presbyterian Hospital, where she was recruited as an associate professor of Neuroscience in Neurology. She also is an adjunct faculty member in the Department of Psychiatry at NYU School of Medicine, in the Department of Nutrition at NYU Steinhardt School of Nutrition and Public Health, and in the Departments of Neurology and Nuclear Medicine at the University of Florence (Italy). Formerly, Dr. Mosconi founded and was the director of the Nutrition & Brain Fitness Lab at New York University School of Medicine (NYU), and an assistant professor in the NYU Department of Psychiatry, where she served as the director of the Family History of Alzheimer's disease research program. Dr. Mosconi holds a dual PhD degree in Neuroscience and Nuclear Medicine from the University of Florence, Italy, and is a board certified integrative nutritionist and holistic healthcare practitioner. She is well known for her research on the early detection of Alzheimer's disease and is passionately interested in the mitigation and prevention of memory loss through lifestyle modifications including diet, nutrition, and physical and intellectual fitness.
Praise For…
---
"In her new book, Brain Food: The Surprising Science of Eating for Cognitive Power Dr. Lisa Mosconi highlights the connection between diet and brain function and shares approachable, actionable tips to put that research into practice."
–Forbes

"Incredible."
—Maria Shriver
 
"Brain Food: The Surprising Science of Eating for Cognitive Power" [is] a guide to the latest research on the links between nutrition and brain health."
—Los Angeles Times

"By drawing on more than fifteen years of scientific research and experience, Dr. Mosconi provides expert advice to prevent medical decline and sharpen memory. Her brain healthy recipes will help you maintain peak cognitive performance well into old age and therefore delay and may even prevent the appearance of debilitating diseases like Alzheimer's."
—KTLA "Good Morning LA"

"At last we are beginning to acknowledge how important nutrition is to brain health.  And in Brain Food we have a superb guide!  As a neuroscientist with a degree in nutrition, Dr. Lisa Mosconi gives us powerful advice on how to eat for maximum brain power as well as maximum pleasure.  Highly recommended!"
—Mark Hyman, MD, New York Times bestselling author of Eat Fat, Get Thin
 
"If we knew what our brains looked like, we'd take better care of them. Often surprising, always accessible, this fascinating book not only reveals the science behind neuro-nutrition, it shows us what we could be eating for maximum brain power."
—Sara Gottfried, MD, New York Times bestselling author of Younger, The Hormone Reset Diet, and The Hormone Cure
 
"Scientists know that diet plays a huge role in brain health--and now Brain Food distills this research into a practical guide. Mosconi provides accessible advice and lots of options for fueling your brain and aging well. This is an empowering resource for anyone who wants to take their brain health into their own hands (and spoons, and forks)." 
—Kelly McGonigal, PhD, author of The Willpower Instinct and The Upside of Stress
 
"Brain Food is a critically important book. Food is medicine or it is poison. The brain uses 20-30% of the calories you consume. If you want to keep and save your brain you have to get your food right.  Brain Food will help you do just that in a delicious, easy way."
—Daniel G. Amen, MD, Founder, Amen Clinics and author of Memory Rescue
 
"Can a Mediterranean diet help avert Alzheimer's? Mosconi's persuasive account of the surprising connection between food and brain health sparkles with well-researched nutritional evidence. Brain Food offers culinary wisdom and reasons for hope in equal measure."
—Richard Wrangham, PhD, Ruth B. Moore Professor of Biological Anthropology at Harvard University, author of Catching Fire
 
"Over the years, I have learned so much from the work of Dr. Mosconi, whose accomplished credentials spanning both neuroscience and nutrition are wholly unique. This book represents the first time her studies on the interaction between food and long-term cognitive function reach a general audience. Dr. Mosconi always makes the point that we would eat differently and treat our brains better if only we could see what we are doing to them. From the lab to the kitchen, this is extremely valuable and urgent advice, complete with recommendations that any one of us can take."
—Richard S. Isaacson, MD, author of The Alzheimer's Prevention and Treatment Diet and Alzheimer's Treatment Alzheimer's Prevention
 
"In an era of confusion about what we should eat, Brain Food is a shining light. This is the straight story about 'neuro-nutrition' firmly rooted in research by a neuroscientist who has a deep understanding of how food affects our cognitive health. Dr. Mosconi gives us advice we can easily implement into our lives and a story about the science behind it that is both delightful and accessible. A must read!"
—Elissa Epel, PhD, Professor, UCSF, New York Times bestselling co-author of The Telomere Effect

"If you've ever suspected you could be giving your brain better food for thought, this is the book to pick up."
—New York Post

"Think sharper by eating meals like grilled salmon in ginger-garlic marinade from this neuroscientist and nutritionist. How genius."
—Marie Claire

"In this fascinating investigation, Lisa Mosconi presents research that crosses disciplines to argue that what goes on in your brain—from your mood to your cognitive abilities—is very closely tied to what you put on your plate. In addition to being a compelling read, readers will find tips and outlines on ways they can change their diets for optimal brain health."
—Real Simple

"This book is as timely as it is eye-opening, in a period when life spans are increasing and awareness grows about the way brain chemistry is shaped by emotional history and environment in addition to food. That synchronicity gives this reader a bit of a rush."
—Spirituality & Health

"An important shift needs to be made in the latter: we should pay attention to the way food makes us feel, not to the way it makes us look. This is why it was so refreshing to stumble across Dr. Lisa Mosconi's new book Brain Food."
—PsychologyToday.com