A Master Plan for Rescue: A Novel (Paperback)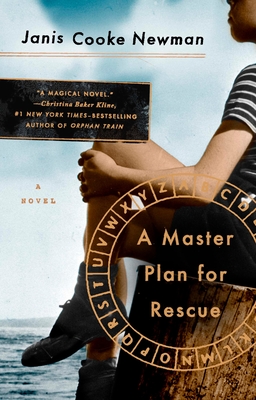 Description
---
Named a Best Book of 2015 by the San Francisco Chronicle

From the bestselling author of Mary: Mrs. A. Lincoln, a magical novel about the surprising acts we are capable of in the name of love.

Set in 1942 New York and Berlin, A Master Plan for Rescue is an enchanting novel about the life-giving powers of storytelling, and the heroism that can be inspired by love. In essence, it is two love stories. It is the story of a child who worships his parents, then loses his father to an accident and his mother to her resulting grief. And it is the story of a young man who stumbles into the romance of his life, then watches her decline, forever changing the arc of his future. Each is propelled by the belief that if he acts heroically enough, it will restore some part of what—or whom—he has lost.

But when they meet, this boy and this man, their combined grief and magical thinking will allow them to dream the impossible. Sharing stories of the people they have lost, they are inspired to join forces and act in their memory. To do something so memorable that it might actually bring their loved ones back—even if only in spirit.

A Master Plan for Rescue is a beautiful tale, propelled by history and imagination, that suggests people's impact upon the world doesn't necessarily end with their lives, and that, to some degree, we are the sum of the stories we tell.
About the Author
---
Janis Cooke Newman is the author of the novel Mary: Mrs. A. Lincoln, and the memoir, The Russian Word for Snow. She is the founder of the Lit Camp writers conference.
Praise For…
---
"Unforgettable… A Master Plan for Rescue balances beautifully on the thin line between wishful thinking and reason, between the imagination and the intellect. In this elaborate tale of appearances and disappearances, Newman employs not only the language of photography but also code-o-graphs, literal and metaphoric…The cumulative effect is wondrous. Like magic." –The San Francisco Chronicle
 
"[A] moving adventure." –Woman's Day

"A magical novel with the power and resonance of a fable. A Master Plan for Rescue is about seeing and being seen, the importance of bearing witness, the lengths we will go for love, and the enduring capacity for hope." —Christina Baker Kline, CBK, #1 New York Times-bestselling author of Orphan Train 

"Newman makes vivid the daily risks and courageous choices individuals face in wartime." -BBC.com
 
"This is a touching story about war and grief…Newman's novel stands out because of her superb writing. This one will linger." –BookRiot
 
"The skillful characterization and superbly-paced plotting would be enough on their own to recommend this book to anyone with an interest in World War II-era literature. But Newman's descriptive and insightful writing punctuates the pleasure with "aha" moments of recognition and delight." -Historical Novel Society

 "[A Master Plan For Rescue is] told with insight and an almost-magical belief in possibilities." —Booklist
"A fantastic novel that's impossible to put down. Janis Cooke Newman's writing is epic and cinematic, compassionate and moving— she's a wonderful writer who completely cracks open our preconceived notions of love. I can't wait to read whatever she writes next." —Molly Antopol, author of The UnAmericans

"A delicate, surprising novel about the ties that bind family and those we love over the ravages of time. This is a World War II novel, but unlike any I'd read before. Janis Cooke Newman is just so wonderful at bringing details of the past to life. She is one of the best historical novelists we have today. I loved this book." —Katie Crouch, author of Girls in Trucks and Abroad
 
"Captivating. Newman has a rare ability to completely inhabit totally disparate characters. In this World War II era story, two strangers come together and attempt the impossible, and Newman breathes pulsing life into what we thought was history." —Peter Orner, author of Esther Stories