The Lion Is in (Hardcover)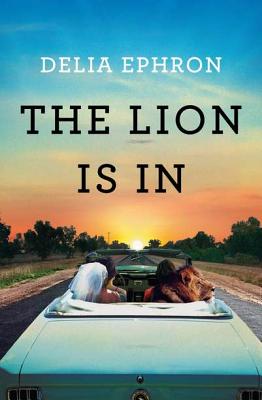 Description
---
.Tracee is a runaway bride and kleptomaniac. Lana's an audacious beauty and a recovering alcoholic. Rita is a holy-roller minister's wife, desperate to escape her marriage and discover whether she actually has a mind of her own.
One warm summer's night, these three women go on the lam together. Their car breaks down on a rural highway in North Carolina and they're forced to seek shelter in a seemingly abandoned nightclub. Which is where they meet Marcel. And soon everything changes.
Marcel, you see, is a lion, a retired circus performer stuck in a cage in this godforsaken roadhouse. And through admiration - one might even say love - for Marcel, our heroines find a way to confront their complicated pasts and fight for the strange, embracing relationships they've formed out in the middle of nowhere. They ultimately navigate their way back to their own hearts - and ours.
Written with the deftness, humor, and sparkling wit that have marked her books, plays, and movies, Delia Ephron's "The Lion Is In" is an unforgettable story of friendship, courage, love - and learning to salsa with the king of the jungle.
About the Author
---
Delia Ephron, author and screenwriter, has written many books for children and adults, including the recent novel Hanging Up. Her film work as a writer and producer includes the movie Hanging Up, as well as You've Got Mail, Sleepless in Seattle, and Michael. She lives in New York City.
Praise For…
---
Praise for THE LION IS IN by Delia Ephron:  "One of the sharpest observers of human behavior around, Ephron, with her trademark mastery of smart, snappy dialogue, delivers a read-in-one-sitting, feel-good celebration of resiliency and hope."
—Booklist "Three women embark on a journey of self-discovery, facilitated by a giant feline, in Ephron's whimsical but winsome third novel."—Kirkus Reviews   "Imagine if Siegfried & Roy had written Water for Elephants … The Lion Is In is off to the races from the first sentence. [A] fun ride."—Tampa Bay Times

"The best kind of chick lit — an engaging feminist romance from which the reader emerges with a welcome mood boost. Twinkling with wit and warmth, it also packs a moral punch: We need to forgive not just each other, but ourselves, make amends wherever we can and just ease the heck up already."—Newark Star Ledger "Ephron fans and newcomers alike will find plenty to enjoy in this fun, refreshing, and incredibly touching read."—Publisher's Weekly "This wistfully wacky story features a stolen wedding dress, AA meetings, a driving instructor as romantic hero, a cranky nightclub owner and a God-fearing villain. As Marcel roars his wisdom, each woman becomes brave enough to free herself from her own cage."—More  "Readers seeking a heartfelt, offbeat adventure will adore Ephron's fragile but feisty heroines…The perfect getaway for readers who long to reconnect with their inner selves, this quirky comedy's sense of wonder will delight and inspire."—Shelf Awareness "Sweet, satisfying, and worth the wait."—New York Times Book Review