A Worse Place Than Hell: How the Civil War Battle of Fredericksburg Changed a Nation (Paperback)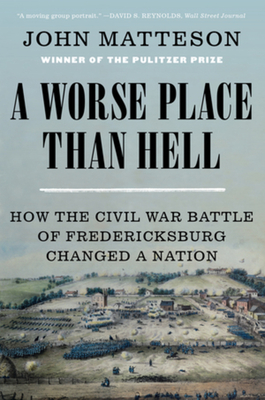 $20.00

Usually Ships in 1-5 Days
Description
---
Pulitzer Prize–winning author John Matteson illuminates three harrowing months of the Civil War and their enduring legacy for America.
December 1862 drove the United States toward a breaking point. The Battle of Fredericksburg shattered Union forces and Northern confidence. As Abraham Lincoln's government threatened to fracture, this critical moment also tested five extraordinary individuals whose lives reflect the soul of a nation. The changes they underwent led to profound repercussions in the country's law, literature, politics, and popular mythology. Taken together, their stories offer a striking restatement of what it means to be American.
Guided by patriotism, driven by desire, all five moved toward singular destinies. A young Harvard intellectual steeped in courageous ideals, Oliver Wendell Holmes Jr. confronted grave challenges to his concept of duty. The one-eyed army chaplain Arthur Fuller pitted his frail body against the evils of slavery. Walt Whitman, a gay Brooklyn poet condemned by the guardians of propriety, and Louisa May Alcott, a struggling writer seeking an authentic voice and her father's admiration, tended soldiers' wracked bodies as nurses. On the other side of the national schism, John Pelham, a West Point cadet from Alabama, achieved a unique excellence in artillery tactics as he served a doomed and misbegotten cause.
A Worse Place Than Hell brings together the prodigious forces of war with the intimacy of individual lives. Matteson interweaves the historic and the personal in a work as beautiful as it is powerful.
About the Author
---
John Matteson was awarded the Pulitzer Prize for Biography for Eden's Outcasts and the Ann M. Sperber Prize for The Lives of Margaret Fuller. A Distinguished Professor of English at John Jay College of Criminal Justice, he lives in the Bronx.
Praise For…
---
[A] moving group portrait…[Matteson's] firm grasp of detail, visible as well in his fine biographies of the Alcott family and Margaret Fuller, makes each of his characters vivid and distinctive.
— David S. Reynolds, Wall Street Journal

Matteson deftly unfurls many stories within stories with a confident, novelistic flair. Ambitious, nuanced, and thoroughly rewarding.
— Kirkus Reviews (starred review)

John Matteson has once again delivered a beautifully written, exhaustively researched, and brilliantly interpreted work of history. This is a riveting and eerily relevant account of America at its most divided, yet also seeking redemption.
— Debby Applegate, author of The Most Famous Man in America: The Biography of Henry Ward Beecher, winner of the 2007 Pulitzer Prize for Biography

If you already know who won the Battle of Fredericksburg, you will soon forget, as John Matteson follows the intimate and intricate lives of five people who lived through it. Courage and valor vie with fear and anxiety—on a wintertime battlefield, on the home front, and in field hospitals. This story of choices, mistakes, and shifting luck is also a portrait of war on a human scale.
— Martha Hodes, author of Mourning Lincoln

Fredericksburg in 1862 became a true touchstone of history…John Matteson's genius flows effortlessly through the entire narrative, taking us through the blast furnace of war and its battles and hospitals, and its suffering. This is the best book I've ever read on the impact and meaning of Fredericksburg, where ordinary lives were made extraordinary.
— Francis A. O'Reilly, author of The Fredericksburg Campaign: Winter War on the Rappahannock

If the truest history is biography, as Emerson says, then seldom has history been better told than in this epic biography of five lives upended and transformed by the Civil War. John Matteson helps us see through the surface to the deeper currents beneath, revealing how one key battle became the inflection point transforming not only these men and women but the nation they composed, right down to the stories we tell, the poems we read, the monuments we build, the laws we live by, the prayers we utter—even the buildings we live in. Not to be missed.
— Laura Dassow Walls, author of Henry David Thoreau: A Life