The Authority Gap: Why Women Are Still Taken Less Seriously Than Men, and What We Can Do About It (Hardcover)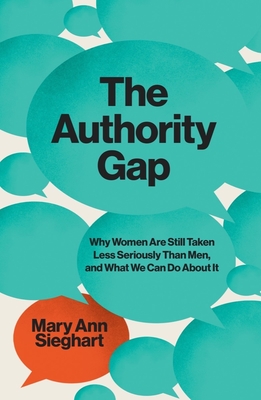 $28.95

Coming Soon - Available for Pre-Order Now
Description
---
An incisive, intersectional look at the mother of all gender biases: a resistance to women's authority and power.
Every woman has a story of being underestimated, ignored, challenged, or patronized in the workplace. Maybe she tried to speak up in a meeting, only to be talked over by male colleagues. Or a client addressed her male subordinate instead of her. Despite the progress we've made toward equality, we still fail, more often than we might realize, to take women as seriously as men.
In The Authority Gap, journalist Mary Ann Sieghart examines the wide-ranging implications of this critical gender bias. She explores its intersections with race and class biases and the measures we can take to bridge the gap. With precision and insight, she marshals a wealth of data from a variety of disciplines—including psychology, sociology, politics, and business—and interviews pioneering women like Booker Prize winner Bernardine Evaristo and Janet Yellen. The Authority Gap offers a "a credible roadmap that is capable of taking women from the margins to the center" (Mary McAleese, former president of Ireland).
About the Author
---
Mary Ann Sieghart is a London-based journalist and broadcaster who has worked for the Times, the Independent, the Economist, the Financial Times, and the BBC. She researched this book as a Visiting Fellow of All Souls College, University of Oxford.