Memory, Trauma Treatment, and the Law (Hardcover)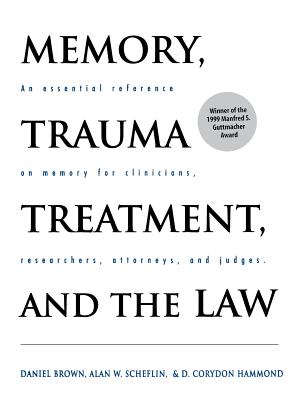 $100.00

Usually Ships in 1-5 Days
Description
---
This book is designed to be a one-stop text for clinicians and experimentalists who wish to understand the workings of memory in and out of the therapeutic arena. In addition, it will guide attorneys and judges in litigating and resolving hundreds of cases now in the courts concerning memory and the use of hypnosis to recover memory.
The authors critically review memory research, trauma treatment, and legal cases pertaining to the false memory controversy. They discuss current memory science and research with both children and adults, pointing out where findings are and are not generalizable to trauma memories recovered in psychotherapy. The main issues in the recovered memory debate are covered, as well as research on emotion and memory, autobiographical memory, flashbulb memory, memory for trauma, and types of suggestions, such as misinformation suggestions, social persuasion, interrogatory suggestions, and brainwashing. Research on the reliability of memories recovered in hypnosis is reviewed and guidelines for using hypnosis with patients reporting no, partial, or full memory of having been sexually abused are outlined.
The authors review the development and current practice of phase-oriented trauma treatment and present a standard of care that is effective and ethical. Their exploration of memory in the legal context includes a review of malpractice liability and current malpractice cases for allegedly implanting false memories in therapy, as well as the evolving law around legal actions by people who have recovered memories and around hypnosis and memory recovery.
This is an essential reference on memory for all clinicians, researchers, attorneys, and judges.
About the Author
---
Daniel Brown, PhD, is Associate Clinical Professor of Psychology at Harvard Medical School, where he teaches courses on performance excellence for health professionals and judges. He is the author of sixteen books, including Memory, Trauma-Treatment, and the Law (with Alan Scheflin and Cory Hammond), winner of the 1999 Guttmacher award from the American Psychiatric Association for outstanding contribution to forensic psychiatry.

D. Corydon Hammond, Ph.D., ABPH, is past president and a fellow of the American Society of Clinical Hypnosis (ASCH), which honored him with a Presidential Award of Merit in 1989. He also received the ASCH Irving I. Secter Award in 1990 and the Thomas P. Wall Award for Excellence in Teaching of Clinical Hypnosis in 1994. He is Professor of Physical Medicine and Rehabilitation and Co-director of the Sex and Marital Therapy Clinic at the University of Utah School of Medicine. He has written six books, including the Handbook of Hypnotic Suggestions and Metaphors. He coordinated a national task force on hypnosis and memory and is the primary author of Clinical Hypnosis and Memory: Guidelines for Clinicians and for Forensic Hypnosis and of ASCH's Standards of Training in Clinical Hypnosis.

Alan W. Scheflin, J.D., LL.M., is Professor of Law, Santa Clara University Law School, California. He is the co-author of The Mind Manipulators, Trance on Trial, which won the 1991 Manfred S. Guttmacher Award as the year's most outstanding publication in forensic psychiatry, and Clinical Hypnosis and Memory: Guidelines for Clinicians and for Forensic Hypnosis, which received the Society for Clinical and Experimental Hypnosis Shapiro Award for "Book of the Year" in 1995. Professor Scheflin has testified before legislatures and has been judicially recognized in federal district court as an expert on mind and behavior control and in state court as an expert on suggestion and suggestibility, memory, and hypnosis. In 1993 he received the Irving I. Secter Award in honor of his service to the American Society of Clinical Hypnosis.