Blood Runs Coal: The Yablonski Murders and the Battle for the United Mine Workers of America (Hardcover)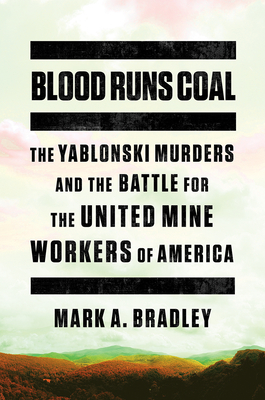 for information about purchasing this book, please contact orders@bookpassage.com
Description
---
Finalist for the 2021 Edgar Allan Poe Award for Best Fact Crime



The shocking assassination that catalyzed groundbreaking reform in Big Coal.
In the early hours of New Year's Eve 1969, in the small soft coal mining borough of Clarksville, Pennsylvania, longtime trade union insider Joseph "Jock" Yablonski and his wife and daughter were brutally murdered in their old stone farmhouse. Seven months earlier, Yablonski had announced his campaign to oust the corrupt president of the United Mine Workers of America (UMWA), Tony Boyle, who had long embezzled UMWA funds, silenced intra-union dissent, and served the interests of Big Coal companies. Yablonski wanted to return the union to the coal miners it was supposed to represent and restore the organization to what it had once been, a powerful force for social good. Boyle was enraged about his opponent's bid to take over—and would go to any lengths to maintain power.
The most infamous crimes in the history of American labor unions, the Yablonski murders triggered one of the most intensive and successful manhunts in FBI history—and also led to the first successful rank-and-file takeover of a major labor union in modern U.S. history, one that inspired workers in other labor unions to rise up and challenge their own entrenched, out-of-touch leaders.
An extraordinary portrait of one of the nation's major unions on the brink of historical change, Blood Runs Coal comes at a time of resurgent labor movements in the United States and the current administration's attempts to bolster the fossil fuel industry. Brilliantly researched and compellingly written, it sheds light on the far-reaching effects of industrial and socioeconomic change that unfold across America to this day.
About the Author
---
Mark A. Bradley has been a US Department of Justice lawyer, a criminal defense lawyer, and a CIA intelligence officer. Currently the director of the Information Security Oversight Office of the National Archives and Records Administration, he lives in Arlington, Virginia.
Praise For…
---
Bradley reveals the appalling story of the Yablonski murders, combining elements of true crime drama and legal thriller with a perceptive exploration of a transformative moment in modern labor history.
— Steve Nathans-Kelly - New York Journal of Books

One of the most shocking episodes in organized labor's blood-soaked history.... Bradley reconstructs the crime and the coalfield uprising it inspired in his meticulously researched book.
— Steve Halvonik - Pittsburgh Post-Gazette

Union politics and true crime mix vividly in Bradley's account.... [Bradley] tells a great story.
— National Book Review

Brought to life in vivid detail.... A nuanced picture of a real, successful struggle for democracy.
— Robin Kaiser-Schatzlein - The Baffler

Blood Runs Coal is impossible to put down. Mark A. Bradley has nailed his subjects in every possible way, from his chillingly cinematic handling of a breathtaking triple homicide to exciting courtroom dramas to a cast of villains from the violent gangs of the Hillbilly Underworld, and to the true-life heroic crusade to reform a murderous coal mining labor union. Mr. Bradley skillfully presents a world no reader will ever forget.

— Charles Brandt, author of I Heard You Paint Houses: Frank "The Irishman" Sheeran and Closing the Case on Jimmy Hoffa

Mark A. Bradley's Blood Runs Coal skillfully presents the story of an American tragedy, a reminder that greed and violence, perpetrated by those in power, has always been a threat to our society, and that we must always be prepared to fight it.

— John Sayles, writer and director of Matewan

An absorbing, brilliant account of one of the most tragic murder stories in modern labor history, Blood Runs Coal judiciously uncovers the hidden layers of a brutal crime in the last moments of the tumultuous decade of the 1960s, and recovers the legacy of the heroic movement for democracy in the coal fields that remains an urgent, powerful, and hopeful cautionary tale for today.

— Jeff Biggers, author of Reckoning at Eagle Creek: The Secret Legacy of Coal in the Heartland

Masterful.... An absorbing narrative of pride, greed, arrogance, and retribution that will find a place in history and true crime collections.
— Library Journal, starred review

Page-turning.... Bradley fluidly interweaves union politics with insider accounts.... The result is both a juicy true crime story and a tribute to the power of effective labor movements.
— Publishers Weekly

A well-paced, thorough investigation of a half-century-old crime whose effects are still felt in the Appalachian coal fields.
— Kirkus