The Burning Girl: A Novel (Hardcover)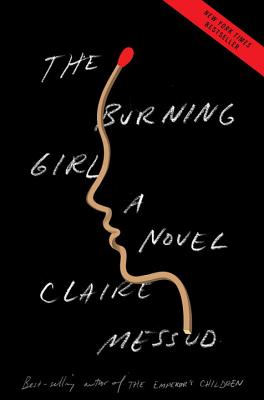 for information about purchasing this book, please contact orders@bookpassage.com
September 2017 Indie Next List
---
"Claire Messud is one of our most talented storytellers. Her latest, The Burning Girl, is a crystalline evocation of the deep friendships that develop between teenage girls, a bond unlike any other. Messud traverses the fraught alliances and raw emotions of high school, reminding us that these ordinary rites of passage can have extraordinary consequences. Messud's writing is deft and immersive, her character development sharp and perceptive. The novel recreates the pain of first realizing that it is impossible to fully know another, that our self-narratives reflect how we want to be seen but not who we actually are."
— Lori Feathers, Interabang Books, Dallas, TX
Description
---
A New York Times Bestseller

A Los Angeles Times Book Prize Finalist



A bracing, hypnotic coming-of-age story about the bond of best friends, from the New York Times best-selling author of The Emperor's Children.
Julia and Cassie have been friends since nursery school. They have shared everything, including their desire to escape the stifling limitations of their birthplace, the quiet town of Royston, Massachusetts. But as the two girls enter adolescence, their paths diverge and Cassie sets out on a journey that will put her life in danger and shatter her oldest friendship. The Burning Girl is a complex examination of the stories we tell ourselves about youth and friendship, and straddles, expertly, childhood's imaginary worlds and painful adult reality—crafting a true, immediate portrait of female adolescence.
Claire Messud, one of our finest novelists, is as accomplished at weaving a compelling fictional world as she is at asking the big questions: To what extent can we know ourselves and others? What are the stories we create to comprehend our lives and relationships? Brilliantly mixing fable and coming-of-age tale, The Burning Girl gets to the heart of these matters in an absolutely irresistible way.
About the Author
---
Claire Messud is the author of six works of fiction. A recipient of a Guggenheim and Radcliffe Fellowships and the Strauss Living Award from the American Academy of Arts and Letters, she lives in Cambridge, Massachusetts, with her family.
Praise For…
---
The friendship of two girls, Julia and Cassie, animates this slim, dreamlike novel…Messud plays, lightly, with familiar archetypes, deftly abstracting her take so that it flares into myth.
— The New Yorker

[Messud] is an absolute master storyteller and bafflingly good writer…It is that combination of imagination and skill that makes The Burning Girl exceptional…It amplifies that subtle, piercing shift between Cassie and Julia, made brighter by passages of sheer splendorous prose.

— Rebecca Carroll - Los Angeles Times

[A] masterwork of psychological fiction…Messud teases readers with a psychological mystery, withholding information and then cannily parceling it out.
— Julia Klein - Chicago Tribune

Ms. Messud is at her most incisive in exploring the volatile transition from childhood to adolescence.
— Sam Sacks - Wall Street Journal

Messud is psychologically astute about her characters and about the competing social and familial pressures…that make adolescent friendship and its dissolution so fraught.
— Boston Globe

[Messud] has specialized in creating unusual female characters with ferocious, imaginative inner lives…Long before the recent success of Elena Ferrante's Neapolitan tetralogy, which tells of the complex, often vexed, lifelong friendship between two women, Messud was narrating these stories with an unusual intensity—and quietly making a case for women's interiority as a subject worthy of the most serious examination.
— Ruth Franklin - New York Times Magazine

Messud is committed to the deep emotional excavation of her characters, revealing and exploring the complex inner impulses that fuel their stories…the author's prose and insights are breathtaking…With this novel, Messud brings her own particular brand of astuteness and emotional intelligence through her careful and thoughtful prose.
— San Francisco Chronicle

The kind of book more common in the middle of the twentieth century than it is today; novels written for adults in the first-person voice of a child or adolescent but entirely accessible to readers of their protagonists' age. You'll know the ones I mean, school classics like To Kill a Mockingbird and The Catcher in the Rye…The Burning Girl has a more sophisticated structure, in its unobtrusive handling of the relation between its narrative voice and Julia's younger self, and its moral complexities seem greater too.

— Michael Gorra - New York Review of Books

Slim but impactful…The Burning Girl asks how well we can ever know our closest confidants and answers its own question with every refined page.

— Vanity Fair

[An] intense coming-of-age novel. . . . Messud captures the complicated nature of contemporary adolescence through a nuanced portrait of childhood love and loyalty deteriorating under the pressure of approaching adulthood.
— Jane Ciabattari - BBC
Coverage from NPR