The Case Against Reality: Why Evolution Hid the Truth from Our Eyes (Paperback)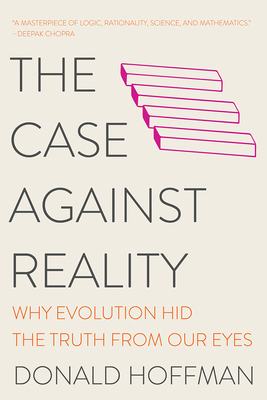 Description
---
Can we trust our senses to tell us the truth?
Challenging leading scientific theories that claim that our senses report back objective reality, cognitive scientist Donald Hoffman argues that while we should take our perceptions seriously, we should not take them literally. From examining why fashion designers create clothes that give the illusion of a more "attractive" body shape to studying how companies use color to elicit specific emotions in consumers, and even dismantling the very notion that spacetime is objective reality,
The Case Against Reality
dares us to question everything we thought we knew about the world we see.
About the Author
---
Donald Hoffman is professor of cognitive science at the University of California, Irvine. His writing has appeared in Scientific American and Edge, and his work has been featured in the Atlantic, Wired, and Quanta. He resides in Irvine, California.
Praise For…
---
A masterpiece of logic, rationality, science, and mathematics. Read this book carefully and you will forever change your understanding of reality, both that of the universe and your own self.
— Deepak Chopra, author of The Healing Self

Hoffman's truly radical theory will force us to ponder reality in a completely different light. Handle with care. Your perception of the world around you is about to be dismantled!
— Chris Anderson, author of TED Talks

Think you know what's really out there? Read this breathtaking, whistle-stop tour of a book that illuminates all the profound weirdness masked by our experience and assumptions.
— David Eagleman, best-selling author of The Brain and Incognito

A fresh view into who we truly are—one that transcends the perceptions that we accept as reality. Hoffman unapologetically takes us down a rabbit hole where we learn that all reality is virtual and that truth lies solely in you, the creator.
— Rudolph Tanzi, coauthor of Super Brain

Captivating and courageous…anyone who reads this book will likely never look at the world the same way again. Hoffman challenges us to rethink some of the most basic foundations of neuroscience and physics, which could prove to be exactly what we need to make progress on the most difficult questions we face about the nature of reality.
— Annaka Harris, author of Conscious

In the mood to have your mind blown? In this fascinating, deeply original, and wonderfully engaging book, Hoffman takes us on a tour of the uncharted territory where cognitive science, fundamental physics, and evolutionary biology meet— and where the nature of reality hangs in the balance. You'll never look at the world— or, rather, your interface— the same way again.
— Amanda Gefter, author of Trespassing on Einstein's Lawn

Woody Allen once said, 'I hate reality, but . . . where else can you get a good steak dinner?' Hoffman turns that joke on its head: What we have always been after is the steak dinner; what we call reality is our best adapted strategy for getting it. Sink your teeth into that!
— Christopher A. Fuchs, professor of physics, University of Massachusetts Boston

This book is a must-read if you want to bring your understanding of 'reality' in sync with the way the World is. You are in for some major surprises and mind expanding. A good read that will set you thinking about yourself, others and the world.
— Jan Koenderink, author of Color for the Sciences