Our Revolution: A Mother and Daughter at Midcentury (Paperback)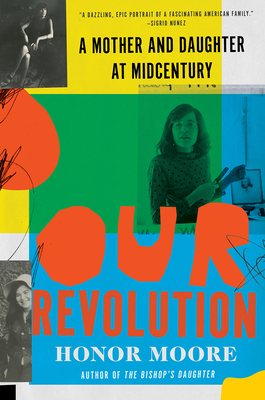 for information about purchasing this book, please contact orders@bookpassage.com
Description
---
A daughter's "tender and unflinching portrait of her complex, privileged, wildly talented mother" (Louise Erdrich) evolves beautifully into a narrative of the far-reaching changes in women's lives in the twentieth century.
With the sweep of an epic novel, Our Revolution follows charismatic and brilliant Jenny Moore, whose life changed as she became engaged in movements for peace and social justice. Decades after Jenny's early death, acclaimed poet and memoirist Honor Moore forges a new relationship with the seeker and truth teller she finds in her mother's writing. Our Revolution is a daughter's vivid, absorbing account of the mother who shaped her life as an artist and a woman, "beautifully recorded, documented, and envisioned as feminist art and American history" (Margo Jefferson).
About the Author
---
Honor Moore is the author of two previous memoirs in A Daughter's Family Trilogy—The Bishop's Daughter, a finalist for the National Book Critics Circle Award, and The White Blackbird, a New York Times Notable Book—as well as a play and three collections of poems. She lives in New York City.
Praise For…
---
A dazzling, epic portrait of a fascinating American family.
— Sigrid Nunez

Searching.… The process of understanding a parent, perhaps like memoir writing, never ends. The writer and the child return repeatedly to a collection of fragments, rearranging and reconsidering them in the shifting light of age.
— Janny Scott - New York Times Book Review

[Moore] evokes the turbulence of the women's rights movement in this elegiac account of her mother's trek from Social Register to social justice activist.
— O, The Oprah Magazine

A monumental and loving excavation of a life so richly promising, and quenched so early.… It's a victory of awareness and self-distancing, the task of writing in order to see the self.… [Moore] makes sense of a complex history and of complex and intimate relationships in clear, nuanced, and strategically paced prose. The culmination comes in the form of the mutual understanding she and her mother were granted, or rather, granted each other, through remarkable powers of moral imagination—in both women. The daughter writer has made her writer mother live again.
— Rosanna Warren - Literary Matters

A sharp portrait of two women who struggled to shape their lives as their world changed.… A deeply insightful, empathetic family history.
— Kirkus Reviews (starred review)

Moore shares intimate glimpses of her family life and coming-of-age story, beautifully integrating excerpts from her mother's writing among her own recollections and research.… [A] rich exploration of an individual whose life and family were dramatically altered by second-wave feminism.
— Library Journal

Our Revolution begins with the sudden, catastrophic death of a mother and ends only when that mother has been returned to vibrant, textured life by her memoirist and poet daughter. Here is that emergence, beautifully recorded, documented, and envisioned as feminist art and American history.

— Margo Jefferson, National Book Critics Circle Award-winning author of Negroland

Our Revolution, Honor Moore's tender and unflinching portrait of her complex, privileged, wildly talented mother, has been my book companion for a week. I could not hope for better. Jenny McKean through her daughter's eyes is a deeply loving presence. Moore seamlessly blends her own voice with her mother's writings to create a compelling world of 1960s and '70s male idealism that rested upon the invisible labor of women.

— Louise Erdrich, via the Birchbark Books Instagram

Honor Moore's vivid, compassionate, scrupulously honest portrait of her mother deftly charts the complex entanglements of family love, need, and pain. But this memoir-biography is also an intimate history of the ideas and events that jolted America during the three decades that followed the Second World War. The gaping rifts of class, race, and sex that set the country on fire then are still burning. Our Revolution is a book about those times for our times.

— Siri Hustvedt, author of Memories of the Future

Our Revolution is the poignant book that Honor Moore was destined to write: a passionate biographical memoir that uncovers, almost five decades after her mother's death, a tale of family, faith, and fortitude—and of human rights, religion, and women, of mothers and daughters struggling to find themselves and each other against a midcentury backdrop of tumultuous change, uncertainty, and abiding love. Compassionate, genuine, hard to put down, it's also a tale for today, not to be missed.

— Brenda Wineapple, author of The Impeachers