How Charts Lie: Getting Smarter about Visual Information (Paperback)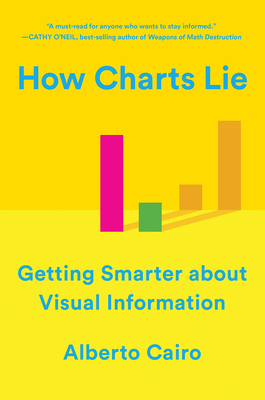 $16.95

Usually Ships in 1-5 Days
Description
---
A leading data visualization expert explores the negative—and positive—influences that charts have on our perception of truth.
Today, public conversations are increasingly driven by numbers. While charts, infographics, and diagrams can make us smarter, they can also deceive—intentionally or unintentionally. To be informed citizens, we must all be able to decode and use the visual information that politicians, journalists, and even our employers present us with each day. Demystifying an essential new literacy for our data-driven world, How Charts Lie examines contemporary examples ranging from election result infographics to global GDP maps and box office record charts, as well as an updated afterword on the graphics of the COVID-19 pandemic.
About the Author
---
Alberto Cairo is the Knight Chair in Visual Journalism at the School of Communication of the University of Miami. He has consulted with companies and institutions such as Google and the Congressional Budget Office on visualizations. He lives in Miami, Florida.
Praise For…
---
A must-read for anyone who wants to stay informed.
— Cathy O'Neil, best-selling author of Weapons of Math Destruction

[Cairo's] book could not be more timely.
— Economist

This book offers a succinct, elegant, accessible look at the ways data can be represented or misrepresented and is a perfect primer for anyone who cares about the difference.
— Charles Wheelan, author of Naked Statistics

At a time of widespread concern over disinformation in the media, Cairo provides a valuable corrective to the acceptance of numbers, and their visual representation, as having objective truth.
— Publishers Weekly (starred review)

As this entertaining addition demonstrates, the 'how to lie with statistics' genre is alive and well.… An ingenious tool for detecting flaws in charts, which nowadays seem mostly deliberate.
— Kirkus Reviews

A powerful reference that advises consumers how to better interpret the data being represented in graphic form.
— Midwest Book Review

I wish we lived in a world where you didn't need to read Alberto Cairo's How Charts Lie, a robust guide to self-defense against graphs and figures designed to mislead. But here we are, and yes, you do.

— Jordan Ellenberg, author of How Not to Be Wrong

Alberto Cairo has written a wise, witty, and utterly beautiful book. You couldn't hope for a better teacher to improve your graphical literacy.
— Tim Harford, author of The Undercover Economist and presenter of More or Less

Alberto Cairo shares great examples of data visualization and storytelling for anyone who wants to dig into their data.
— Dona Wong, author of The Wall Street Journal Guide to Information Graphics

A picture may be worth a thousand words, but only if you know how to read it. In this book, Alberto Cairo teaches us how to get smarter about visual information by reading charts with attention and care. I found a lot to steal here, and you will, too.
— Austin Kleon, author of Steal Like an Artist