The Undoing Project: A Friendship That Changed Our Minds (Paperback)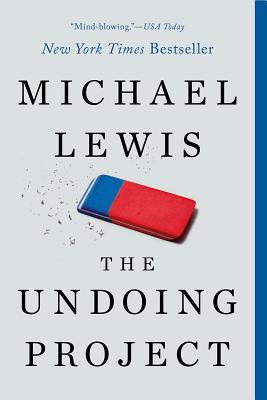 Description
---
"Brilliant. . . . Lewis has given us a spectacular account of two great men who faced up to uncertainty and the limits of human reason." —William Easterly, Wall Street Journal
Forty years ago, Israeli psychologists Daniel Kahneman and Amos Tversky wrote a series of breathtakingly original papers that invented the field of behavioral economics. One of the greatest partnerships in the history of science, Kahneman and Tversky's extraordinary friendship incited a revolution in Big Data studies, advanced evidence-based medicine, led to a new approach to government regulation, and made much of Michael Lewis's own work possible. In
The Undoing Project,
Lewis shows how their Nobel Prize–winning theory of the mind altered our perception of reality.
About the Author
---
Michael Lewis is the best-selling author of Liar's Poker, Moneyball, The Blind Side, The Big Short, The Undoing Project, and The Fifth Risk. He lives in Berkeley, California, with his family.
Praise For…
---
Lewis has written one hell of a love story.
— Jennifer Senior - New York Times

Hugely important.
— Samantha Power - New York Times Book Review

A must-read.
— Greg McKenna - Business Insider

Fascinating stories about intriguing people.
— Cass Sunstein and Richard Thaler - The New Yorker

Brilliant… Lewis has given us a spectacular account of two great men who faced up to uncertainty and the limits of human reason.
— William Easterly - Wall Street Journal

Compelling… The Undoing Project is a history of the birth of behavioral economics, but it's also Lewis's testament to the power of collaboration.

— Peter Coy - Bloomberg Businessweek

Whatever subject strikes his fancy, Lewis
renders it clear and understandable while showcasing its human drama. In the
realm of exalted journalistic wizardry, he is surely kin to Tracy Kidder and
Malcolm Gladwell.
— Dan Cryer - Boston Globe

Intellectually mesmerizing and inspiring.
— Harper's Bazaar

Mind-blowing… [The Undoing Project] will raise doubts about how you personally perceive reality.
— Don Oldenburg - USA Today

Michael Lewis has a genius for finding stories about people who view reality from an unusual angle and telling these stories in a compulsively readable way.
— Geoffrey Kabat - Forbes

A fantastic read.
— Jesse Singal - New York Magazine

Lewis [is a] master of the character-driven narrative.
— Charlie Gofen - The National Book Review

Tantalizing and tender… Lewis is an irresistible storyteller and a master at illuminating complicated and fascinating subjects.
— Booklist, starred review