The Cailiffs of Baghdad, Georgia: A Novel (Paperback)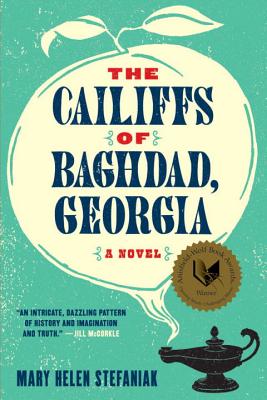 $15.95
Email or call for price
Description
---
A hidden history of the South emerges when a worldly teacher leads Threestep, GA, to reinvent itself, setting in motion events that lead to triumph and tragedy for the black teenager who happens to be the smartest person in Piedmont County, Georgia, in 1938–39.
As an epigraph from The Souls of Black Folk by W. E. B. Du Bois reminds us at the start of this novel, "Throughout history, the powers of single black men flash here and there like falling stars, and die sometimes before the world has rightly gauged their brightness."
Protagonist Theo Boykin is a genius, an artist, an inventor, a Leonardo DaVinci–type, whose talents are sought after by local blacks and whites alike, but even this is not enough to save him. He falls victim to "the tragedy of ignorance and the damage caused by fear," in the words of poet Rita Dove—the first African American to serve as U.S. Poet Laureate and a member of the jury that conferred on The Cailiffs of Baghdad, Georgia the 2011 Anisfield-Wolf Award for books that "make a significant contribution to our understanding of racism and our appreciation for the diversity of human cultures."
You won't forget Theo Boykin, nor will you forget his friends the Cailiffs, especially Gladys, who tells this story with love and bewilderment, and the teacher, Miss Spivey, who changes all their lives.
About the Author
---
Mary Helen Stefaniak is the prize-winning author of The Turk and My Mother, Self Storage and Other Stories, and The Cailiffs of Baghdad, Georgia. She lives in Omaha and Iowa City.
Praise For…
---
A novel fairly brimming with inventive storytelling and comic brio.
— Booklist

Wonderfully seductive, one of those rare books you disappear into wholly. It's joyous, shamelessly funny, heartbreaking, and page after page it gives you what you didn't expect. This is a novel you'll want to hand deliver to a friend.
— David Long, author of The Inhabited World

Wonderfully engaging … a great tribute to the power of education, strong women and the fine art of storytelling… an intricate dazzling pattern of history and imagination and truth.
— Jill McCorkle, author of Going Away Shoes

A heartfelt, redemptive, and irresistible novel. Stefaniak knows that every story is many stories, and she handles the complex tales of romance, family, race relations, and secrets with intelligence, grace, and tenderness.
— John Dufresne, author of Louisiana Power & Light and Love Warps the Mind a Little

Mary Helen Stefaniak is a born storyteller, with a fantastic gift for mingling the exotic and the ordinary, the comic and the heartrending. Her tale of drastic change coming to a small Southern town in the 1930s is filled with wild incidents, vivid characters, and a surprise at every turn—a delight to read.
— Lynne Sharon Schwartz, author of Ruined by Reading: A Life in Books

This novel has strong, long legs. I hope it walks forever. Besides delivering suspenseful, eloquently detailed, non-sentimental prose, it spoons out a big dose of clarity that America needs.
— Clyde Edgerton, author of The Bible Salesman

So lush with detail that most scenes possess cinematic immediacy. Ultimately, reading about the triumphs and tragedies of the Cailiffs will make readers feel right at home amid Georgia pines and pecans.
— Minneapolis Star Tribune