Usage and Abusage: A Guide to Good English (Paperback)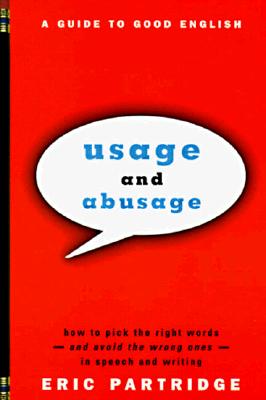 $26.00

Usually Ships in 1-5 Days
Description
---
An updated edition of a useful, entertaining guide to picking the right words (and avoiding the wrong ones).
Which is preferred - nom de plume, pseudonym, or pen name? What are neologisms, disguised conjunctions, and fused participles? Language enters into almost every part of human life and yet it is all too often misused: directness and clarity disappear in a whirl of clichés, euphemisms, and wooliness of expression.
Janet Whitcut has revised Eric Partridge's popular reference book to reflect the language of well-informed writers, readers, and speakers today. She has also added a section to the book entitled "Vogue Words," which includes words that have acquired a new power and influence.
About the Author
---
The late Eric Partridge was the author of many classic books on the English language.

Janet Whitcut has contributed to many publications including The International Encyclopedia of Lexicography and The Oxford Thesaurus.
Praise For…
---
Will be appreciated by language lovers, students, and writers. . . . It now reflects the language changes of the '90s, while retaining succinct and witty essays by Partridge on such subjects as ambiguity, euphemisms, jargon, negation, and puns. . . . A gem of linguistic information.
— Chattanooga Free Press

Entertaining and informative.
— Library Journal