The Panda's Thumb: More Reflections in Natural History (Paperback)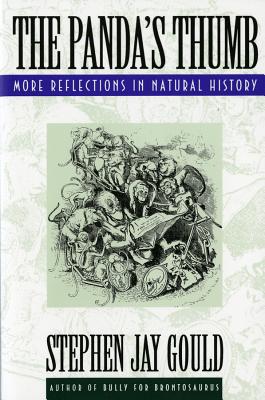 $18.95

Usually Ships in 1-5 Days
Description
---
"Gould is a natural writer; he has something to say and the inclination and skill with which to say it." —P. B. Medawar, New York Review of Books
With sales of well over one million copies in North America alone, the commercial success of Gould's books now matches their critical acclaim. The Panda's Thumb will introduce a new generation of readers to this unique writer, who has taken the art of the scientific essay to new heights.
Were dinosaurs really dumber than lizards? Why, after all, are roughly the same number of men and women born into the world? What led the famous Dr. Down to his theory of mongolism, and its racist residue? What do the panda's magical "thumb" and the sea turtle's perilous migration tell us about imperfections that prove the evolutionary rule? The wonders and mysteries of evolutionary biology are elegantly explored in these and other essays by the celebrated natural history writer Stephen Jay Gould.
About the Author
---
Stephen Jay Gould (1941-2002) was the Alexander Agassiz Professor of Zoology and Professor of Geology at Harvard University. He published over twenty books, received the National Book and National Book Critics Circle Awards, and a MacArthur Fellowship.
Praise For…
---
It is a wonder what Mr. Gould can do with the most unlikely phenomena: a tiny organism's use of the earth's magnetic field as a guide to food and comfort, for instance, or the panda's thumb—which isn't one…Science writing at its best.
— The New Yorker

Stephen Jay Gould is a serious and gifted interpreter of biological theory, of the history of ideas, and of the cultural context of scientific discovery…The Panda's Thumb is fresh and mind-stretching. Above all, it is exultant. So should its readers be.

— H. Jack Geiger - New York Times Book Review

Gould can do no wrong…As long as he writes, you cannot help but read—and enjoy.
— Isaac Asimov