How to See: Looking, Talking, and Thinking about Art (Hardcover)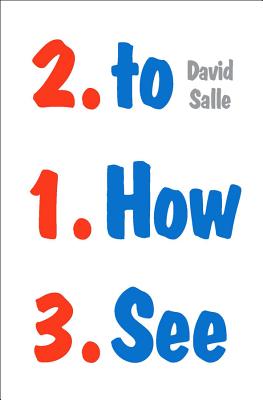 Description
---
A master class in contemporary art by one of the preeminent painters of our time.
How does art work? How does it move us, inform us, challenge us? Internationally renowned painter David Salle's incisive essay collection illuminates the work of many of the most influential artists of the twentieth century. Engaging with a wide range of Salle's friends and contemporaries—from painters to conceptual artists such as Jeff Koons, John Baldessari, Roy Lichtenstein, and Alex Katz, among others—How to See explores not only the multilayered personalities of the artists themselves but also the distinctive character of their oeuvres.
Salle writes with humor and verve, replacing the jargon of art theory with precise and evocative descriptions that help the reader develop a personal and intuitive engagement with art. The result: a master class on how to see with an artist's eye.
About the Author
---
David Salle's paintings are in the permanent collections of the Museum of Modern Art, the Whitney Museum of American Art, the Guggenheim Museum, the Metropolitan Museum of Art, the National Gallery in Washington, DC, the Los Angeles County Art Museum, Tate Modern, the National Galerie Berlin, and many others. He lives in New York City.
Praise For…
---
If John Berger's Ways of Seeing is a classic of art criticism, looking at the 'what' of art, then David Salle's How to See is the artist's reply, a brilliant series of reflections on how artists think when they make their work. The 'how' of art has perhaps never been better explored.

— Salman Rushdie

David Salle's brilliant canvases changed everything, and now his luminescent eye and voice have married in a book that is destined to alter not only how we look at art, but the language we use to describe it. His essays are a gift that, in addition to feeding one's process of intellection, nourishes one's art loving soul. Transcendent.
— Hilton Als

David Salle is widely known as one of our most daring and intelligent painters, but he is also an eloquent critic. How to See is a marvel of incisive and intimate observation. For all his audacity as a painter, Salle seems touchingly proud to be a part of the family of art and to derive his pictorial forms from what he calls the 'the shared DNA of art,' raising the possibility that all masterworks are in fact a group project.

— Deborah Solomon

David Salle's thoughtful, intelligent, beautifully written essays inspire us to think about, and look at, art in wholly new ways. He makes difficult subjects (and artists) seem effortless, transparent, and he wears the depth and breadth of his knowledge of art and art history so lightly that we hardly notice how much we are learning. How to See is a pure pleasure to read.
— Francine Prose

David Salle writes about art with a joyous lucidity that is both bracing—nothing, absolutely nothing, escapes his notice—and utterly disarming. He guides his readers through the complex world of contemporary art with a rare generosity of spirit, a dazzling skill at description, and a radiant honesty that are as challenging as they are irresistible.
— Ingrid Rowland

David Salle asks of other art not, where does this belong? but, what does this make me feel and think about? Salle subtly and persuasively reminds us that all art, even the most seemingly recalcitrant, is there to be looked at, and that what artists do is, exactly, teach us how to see.
— Adam Gopnik

David Salle has a sharp, thrilling eye and an uncanny ability to reorder and make new the act of seeing. These perceptive, far-ranging essays are drawn from deep knowledge and experience—reading this book feels like having a conversation about art with the smartest person in the room.
— Emma Cline

Wonderful.
— Joan Juliet Buck

Lovely to read… [How to See] is serious but never solemn, alert to pleasure, a boulevardier's crisp stroll through the visual world.

— Dwight Garner - New York Times

An upbeat, non-combative approach to art criticism… [F]resh, engaging.
— Roger White - New York Times Book Review

Witty, chatty, intimate, sharp.
— Lorin Stein - The Paris Review

[Salle] writes about art that he admires with passion and a discerning eye… Illuminating.
— Glen Roven - Los Angeles Review of Books

A trenchant and light-on-its-feet collection of critical essays... about art, artists, fame, and, if you read it closely enough, what it's like to have been David Salle for all these years."
— Carl Swanson - New York Magazine

A remarkable painter whose writing is as fresh, vital, and startling as his canvases, Salle… talks about artists and their work in witty, jargon-free, and eminently accessible prose.
— Tirdad Derakhshani - Philadelphia Inquirer

How to See is an exhilarating and cathartic experience… an offering of passion and generosity, and a pulsing invitation to the reader to find the same in the act of seeing.

— Simone Grace Seol - The National Book Review

[A] breath of fresh air… Salle is the perfect art tour guide: literate, thoroughly entertaining, and insightful.
— Kirkus

Sharp insights and an affable tone make this collection equivalent to a hearty discussion with a mentor—recommended for anyone interested in visual arts.
— Publishers Weekly