Bellow's People: How Saul Bellow Made Life Into Art (Hardcover)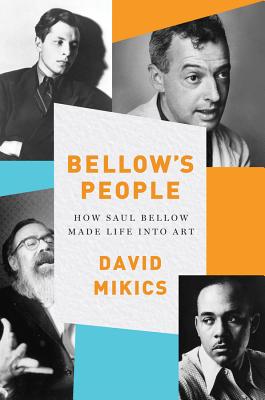 $43.95

Usually Ships in 1-5 Days
Description
---
A leading literary critic's innovative study of how the Nobel Prize–winning author turned life into art.
Saul Bellow was the most lauded American writer of the twentieth century—the winner of the Nobel Prize in Literature and the Pulitzer Prize in Fiction, and the only novelist to be awarded the National Book Award in Fiction three times. Preeminently a novelist of personality in all its wrinkles, its glories and shortcomings, Bellow filled his work with vibrant, garrulous, particular people—people who are somehow exceptionally alive on the page.
In Bellow's People, literary historian and critic David Mikics explores Bellow's life and work through the real-life relationships and friendships that Bellow transmuted into the genius of his art. Mikics covers ten of the extraordinary people who mattered most to Bellow, such as his irascible older brother, Morrie, a key inspiration for The Adventures of Augie March; the writer Delmore Schwartz and the philosopher Allan Bloom, who were the originals for the protagonists of Humboldt's Gift and Ravelstein; the novelist Ralph Ellison, with whom he shared a house every summer in the late 1950s, when Ellison was coming off the mammoth success of Invisible Man and Bellow was trying to write Herzog; and Bellow's wife, Sondra Tschacbasov, and his best friend, Jack Ludwig, whose love affair Bellow fictionalized in Herzog.
A perfect introduction to Bellow's life and work, Bellow's People is an incisive critical study of the novelist and a memorable account of a vibrant and tempestuous circle of midcentury American intellectuals.
About the Author
---
David Mikics is the Moores Distinguished Professor of English at the University of Houston. He is the author, most recently, of Slow Reading in a Hurried Age, and his writing has appeared in Tablet, the New Republic, and the New York Times.
Praise For…
---
In this novel approach to author Saul Bellow's work, Mikics . . . centers his study of influence and literary criticism around some key figures in the Nobel Laureate's life. . . . Mikics's larger thesis is that Bellow's writing exalts personality, and the sheer variety and depth of the real personalities he studies in this book deftly support that framework.
— Publishers Weekly

In his fresh and lively portraits of a number of leading figures in Saul Bellow's life, David Mikics has found a particularly appealing and revealing angle on Bellow's work. This is an exhilarating excursus into the alchemy that transforms close observation and indelible recollection into deeply felt fictional portraiture.
— Morris Dickstein

Personality! Leave it to the brilliant David Mikics to find the perfect key to open up Saul Bellow's work. Bellow is our great literary artist of Personality! Mikics himself writes with the flair of a strong and vivid personality and creates a book of high good humor that is well worthy of Bellow.
— Mark Edmundson

Saul Bellow's novels are full of outsized characters, extravagant talkers, and flamboyant operators—not to mention a few rogues. What David Mikics shows is that Bellow's life was full of them too, operatic personalities who in this sharp and wonderful portrait are every bit as vivid as those on the novelist's own pages… Bellow's People demonstrates where art ends and life begins.

— Michael Gorra

Bellow's People is an immensely winning book—incisive, vivid, and enjoyable, a feast for scholars and the general reader alike.

— Ross Posnock