Gone So Long: A Novel (Hardcover)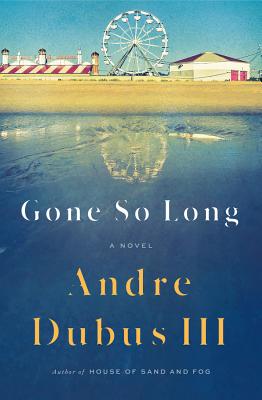 for information about purchasing this book, please contact orders@bookpassage.com
Staff Reviews
---
Susan is married to a man who loves her. She teaches at a college and she is pregnant. She is trying to write a memoir. Sounds ideal, but of course that's not the case. When Susan was three years old, she watched her father murder her mother. Now, Danny has been released from prison. He is dying and he wants to reconnect with his daughter. In the hands of Andre Dubus, a master story teller, we find ourselves deeply immersed in the lives of complex and fascinating characters. This book is going to win prizes, but don't read it for that. Read it because the master story teller, Andre Dubus, will plunge you into a page turning thriller that dives into the complex lives of fascinating characters. —Elaine
— From
Elaine and Luisa's Picks: September - October 2018
Winter 2019 Reading Group Indie Next List
---
"Precision of language, artistry of plot. The author plays no favorites with the three main characters (Daniel, who killed his former wife, Linda, in a fit of rage; Susan, who witnessed the homicide decades earlier; and Lois, Linda's mother, who raised Susan). Each character and storyline is fully developed, giving the reader a great sense of how and why they are who they are. I felt empathy for each of them (yes, even a man who killed his wife!) and read the book on the edge of my seat!"
— Dawn Rennert, The Concord Bookshop, Concord, MA
Description
---
Andre Dubus III's first novel in a decade is a masterpiece of thrilling tension and heartrending empathy.
Few writers can enter their characters so completely or evoke their lives as viscerally as Andre Dubus III. In this deeply compelling new novel, a father, estranged for the worst of reasons, is driven to seek out the daughter he has not seen in decades.
Daniel Ahearn lives a quiet, solitary existence in a seaside New England town. Forty years ago, following a shocking act of impulsive violence on his part, his daughter, Susan, was ripped from his arms by police. Now in her forties, Susan still suffers from the trauma of a night she doesn't remember, as she struggles to feel settled, to love a man and create something that lasts. Lois, her maternal grandmother who raised her, tries to find peace in her antique shop in a quaint Florida town but cannot escape her own anger, bitterness, and fear.
Cathartic, affirming, and steeped in the empathy and precise observations of character for which Dubus is celebrated, Gone So Long explores how the wounds of the past afflict the people we become, and probes the limits of recovery and absolution.
About the Author
---
Andre Dubus III is the author of; Dirty Love,The Garden of Last Days, House of Sand and Fog(a New York Times bestseller, Oprah's Book Club pick, and finalist for the National Book Award), and Townie. His work has been recognized with an American Academy of Arts and Letters Award in Literature, a Guggenheim Fellowship, a National Magazine Award, and two Pushcart Prizes. He lives with his family in Newburyport, Massachusetts.
Praise For…
---
Gone So Long is an astonishment. I love this book so much, the humanity in it. I love every single person in it, they are so real, these people—I know them and love them all. I wept for them, I did. Dubus is just so good and real and true, he doesn't pull one sentimental punch the whole time—extraordinary. I thought about those people as I was walking down the sidewalk, and they are inside me as well, not just thoughts that go by. I love this book to pieces.

— Elizabeth Strout, Pulitzer Prize–winning author of Olive Kitteridge

I tore through this haunting novel about people driven by pain beyond the reach of love and forgiveness, and the roads they use as they seek their way back. It hits just the right note at the end, and I'll be thinking about Susan a long time. A hell of a read.
— Phil Klay, National Book Award–winning author of Redeployment

Well, he's done it again, hasn't he? What a gorgeous heartbreaker of a book. Dubus's compassion is unsentimental and unblinking, total and unwavering. That and sheer artistry makes Gone So Long dark and radiant, beautiful and never to be forgotten.

— Paul Harding, Pulitzer Prize–winning author of Tinkers

Rings with authenticity and evokes the texture of working-class lives. . . . This is a compassionate and wonderful novel.
— Publishers Weekly (starred)

A dark and exquisitely crafted novel that views parental relationships as both a form of inherited violence and redemptive empathy. 
— Library Journal (starred)

Dubus is in his gritty wheelhouse, exploring the
question of how we live with our mistakes and whether we can ever stop adding
to them.
— Kirkus Reviews

Dubus evokes a dazzling
palette of emotions as he skillfully unpacks the psychological tensions between
remorse and guilt, fear and forgiveness, anger and love. Susan, Daniel, and
Lois are fully realized and authentic characters who live with pain and
heartache while struggling to fill the tremendous void created by the tragedy.
Heartrending yet unsentimental, this powerful testament to the human spirit
asks what it means to atone for the unforgivable and to empathize with the
broken.
— Booklist