The Human Age: The World Shaped By Us (Hardcover)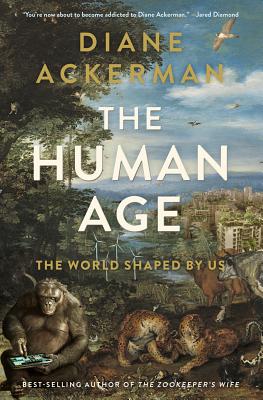 for information about purchasing this book, please contact orders@bookpassage.com
Description
---
As Diane Ackerman writes in her brilliant new book, The Human Age, "our relationship with nature has changed…radically, irreversibly, but by no means all for the bad. Our new epoch is laced with invention. Our mistakes are legion, but our talent is immeasurable."
Ackerman is justly celebrated for her unique insight into the natural world and our place in it. In this landmark book, she confronts the unprecedented reality that one prodigiously intelligent and meddlesome creature,
Homo sapiens
, is now the dominant force shaping the future of planet Earth.
Humans have "subdued 75 percent of the land surface, concocted a wizardry of industrial and medical marvels, strung lights all across the darkness." We tinker with nature at every opportunity; we garden the planet with our preferred species of plants and animals, many of them invasive; and we have even altered the climate, threatening our own extinction. Yet we reckon with our own destructive capabilities in extraordinary acts of hope-filled creativity: we collect the DNA of vanishing species in a "frozen ark," equip orangutans with iPads, and create wearable technologies and synthetic species that might one day outsmart us. With her distinctive gift for making scientific discovery intelligible to the layperson, Ackerman takes us on an exhilarating journey through our new reality, introducing us to many of the people and ideas now creating—perhaps saving—our future and that of our fellow creatures.
A beguiling, optimistic engagement with the changes affecting every part of our lives, The Human Age is a wise and beautiful book that will astound, delight, and inform intelligent life for a long time to come.
About the Author
---
Diane Ackerman has been the finalist for the Pulitzer Prize for Nonfiction in addition to many other awards and recognitions for her work, which include the best-selling The Zookeeper's Wife and A Natural History of the Senses. She lives in Ithaca, New York.
Praise For…
---
An ode to the planet we've created for ourselves… Rarely grim, and the overwhelming spirit is one of relentless optimism.
— Nathanial Rich - New York Times

[Ackerman] raises the bar for her peers…her penetrating insight is a joy to behold.
— Publishers Weekly, Starred review

Ackerman has established herself over the last quarter of a century as one of our most adventurous, charismatic, and engrossing public science writers…she has demonstrated a rare versatility, a contagious curiosity, and a gift for painting quick, memorable tableaus drawn from research across a panoply of disciplines. The Human Age displays all of these alluring qualities…The Human Age is a dazzling achievement: immensely readable, lively, polymathic, audacious.

— Rob Nixon - New York Times Book Review

Diane Ackerman's vivid writing, inexhaustible stock of insights, and unquenchable optimism have established her as a national treasure, and as one of our great authors. You're now about to become addicted to Diane Ackerman.
— Jared Diamond, Pulitzer Prize-winning author of Guns, Germs, and Steel and The World Until Yesterday

In this amazingly illuminating book, Diane Ackerman explains our future with her typically intoxicating blend of scholarship, wisdom, grace and humor.
— Siddhartha Mukherjee, Pulitzer Prize-winning author of The Emperor of All Maladies

Diane Ackerman writes with brilliance, zest, and high style. In a difficult time, we need to hear this voice of human affirmation. It's important. It matters. I read The Human Age and thought, Yes! This is the way to look ahead.

— Jonathan Weiner, Pulitzer Prize-winning author of The Beak of the Finch and Long for this World

The Human Age allows us to consider whether or not we will accept destruction or restoration as our legacy. I cannot imagine a richer text of image and insight, rendered with grace, intelligence and stamina.

— Terry Tempest Williams, author of When Women Were Birds

With this stirringly vivid, darkbright manifesto, Diane Ackerman summons us to the wager of sheer possibility: life against death, delight still (if only just barely) trouncing despair.
— Lawrence Weschler, author of Everything that Rises, Pulitzer Prize finalist

A book to dip around in—skimming some parts and perusing others with care—as your interest guides you, enjoying Ackerman's profound sense of mind play as you go.
— Ben Dickinson - Elle

A hard look at the impact that humans have had on Earth… thought provoking.
— Kyle Anderson - Entertainment Weekly

Fascinating… Ackerman offers a cross-cultural tour of human ingenuity … Her words invite us to feel the hope she feels.
— Barbara J. King - Washington Post

Part immersion memoir and part journalism… The Human Age is also many parts poetry.

— Beth Kephart - Chicago Tribune

[A] thought-provoking analysis of our connection to the earth… A lens that magnifies and clarifies the fascinating, far-reaching effects humans have had on our planet and ourselves.
— Lee E. Cart - Shelf Awareness

Ackerman is a gorgeous writer and perceptive observer. Here she writes with great empathy about the human plight.
— Kate Tuttle - Boston Globe

A humdinger of a book… Ackerman is optimistic, even exhilarated, and frequently giddy about the future of humanity.
— Jon Christensen - San Francisco Chronicle

Exquisite and startling.
— Tim Flannery - Harper's Magazine