One Hundred Names for Love: A Stroke, a Marriage, and the Language of Healing (Hardcover)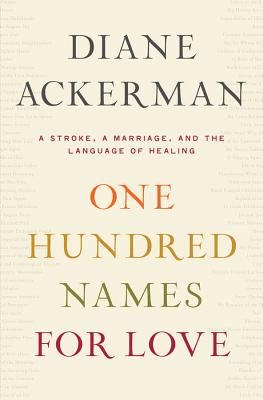 for information about purchasing this book, please contact orders@bookpassage.com
Description
---
Finalist for the Pulitzer Prize

Finalist for the National Book Circle Critics Award



"Diane Ackerman's most enjoyable, intimate, and heartrending work yet."—Atul Gawande
Everyone who cherishes the gift of language will cherish Diane Ackerman's narrative masterpiece, an exquisitely written love story and medical miracle story, one that combines science, inspiration, wisdom, and heart.
One day Ackerman's husband, Paul West, an exceptionally gifted wordsmith and intellectual, suffered a terrible stroke. When he regained awareness he was afflicted with aphasia—loss of language—and could utter only a single syllable: "mem." The standard therapies yielded little result but frustration. Diane soon found, however, that by harnessing their deep knowledge of each other and her scientific understanding of language and the brain she could guide Paul back to the world of words. This triumphant book is both a humane and revealing addition to the medical literature on stroke and aphasia and an exquisitely written love story: a magnificent addition to literature, period.
About the Author
---
Diane Ackerman has been the finalist for the Pulitzer Prize for Nonfiction in addition to many other awards and recognitions for her work, which include the best-selling The Zookeeper's Wife and A Natural History of the Senses. She lives in Ithaca, New York.
Praise For…
---
Starred Review. Writing with her signature empathy, curiosity, brilliance, and mirth, Ackerman chronicles West's heroic battle to reclaim words and mobility and her tailoring of West's speech therapy to match his spectacular vocabulary and unique intelligence. A master of vivid metaphors and multifaceted narratives.... A gorgeously engrossing, affecting, sweetly funny, and mind-opening love story of crisis, determination, creativity, and repair.
— Booklist

[T]ouching…their journey makes for goofy, pun-happy reading, a little like overhearing lovers coo to each other.
— Publishers Weekly

An intimate, richly documented, and beautiful memoir …. [A] double portrait of two remarkable people.
— Joyce Carol Oates

Combine the brilliant sensibility of a poet and essayist with the compelling articulation of her mindful wisdom, and intense devotion, and voila—you have the powerful journey into the many ways love can inspire healing after profound brain damage. This gem of a book will captivate the many of us who have a relative or friend stricken by stroke—and will be of practical help to doctors and scientists as well as concerned family members. One Hundred Names for Love reminds us that healing is possible and that lives can be rebuilt from the inside out.

— Daniel Siegel, M.D.